Chateau d'Estoublon Les Baux Rouge 2012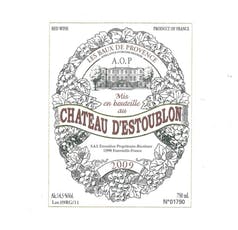 Unavailable
We're sorry, but this product is not currently available.
As we gear up for the summer season, why not try a delicious organic red from Provence, made from the same grapes as the famous Rosé wines of the region? Made of Grenache, Syrah, Mourvèdre and Cabernet Sauvignon, this red is full-flavored, sultry, velvety and gently spicy, perfect for a wide range of foods. Château d'Estoublon is located in the sub-region of Les Baux, located in the heart of Provence and on the south-facing slopes of the Alpilles. It covers almost 200ha, of which 86ha are planted with olive trees and 19ha with vines. The vines are under Appellation d'Origine Contrôlée Vallée des Baux-de-Provence since 1995, the date of the creation of this AOC. Since taking over the property in 1999, Valérie and Rémy Reboul have carried out extensive work in the vineyards and in the wine cellar.
With guidance from Eloi Dürrbach of Domaine de Trevallon, they rearranged the plots, pulling up old vines and planting between 1999 and 2003 new vines using selection massale. Grenache noir, Mourvèdre, Syrah and Cabernet-Sauvignon have been planted, along with Marsanne, Roussanne and Grenache blanc. They have been working for a number of years on meticulously maturing and blending reds made from Grenache, Syrah and Mourvèdre – the 3 varieties that form the backbone of the Château d'Estoublon vintages – as well as a touch of Cabernet Sauvignon (less than 10%). The white wines are blends from Marsanne, Roussanne and Grenache.
The soils: 3/5 coarse-grained gravel, 1/5 silt, 1/5 clay. A key feature of the vineyards in the Vallée des Baux is the diversity of soil types. Château d'Estoublon has deep, well-drained clay-based soil in the low-lying plots and limestone soil in the vineyards at the edge of the mountain. With help from Claude Bourguignon to identify the best parcels, the vineyard of Estoublon are being moved gradually towards the Alpilles, and thus towards limestone soil. Farming: organic since 1999. Certified Ecocert. This 2012 rouge is a blend of 30% Grenache, 30% Syrah, 30% Mourvèdre and 10% Cabernet Sauvignon- AOP Les Baux de Provence.
Bottle ShopThis red from Provence is utterly delicious with pinpoint intensity and ripe, big red fruits. It's fresh but supple. Tons of perfume in the nose and through the center of the palate. Roses, violets, herbs de Provence, wild red plums, macerated raspberries. This is luscious yet structured. Alot to like here.