Elio Altare Barolo 2013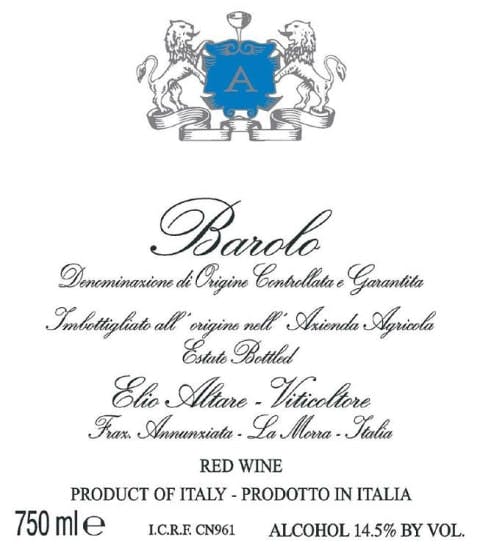 Unavailable
We're sorry, but this product is not currently available.
The Altare family originally comes from the town of Dogliani, then in 1948 they bought the farm in La Morra. Back then, the estate covered 5 hectares of nebbiolo, barbera and dolcetto vineyards, along with some peach, hazelnut and apple trees, but those were times when orchards gave higher yield and more profit than vineyards. Faced with a severe and long lasting economic crisis in Italy, Elio along with other curious barolisti, decided to learn more about winemaking beyond the borders of Piedmont in an attempt to emulate the success that those regions were enjoying.
In January 1976, they made their first trip to Burgundy and it was a revelation. When Elio got back home he knew there were major changes to be made. He wasn't afraid: he grabbed a chainsaw as if it were a sword, and first cut down the fruit trees in the orchard. Then in the cellar he chopped up the large, traditional botti into firewood which made way for the next big revolution: Barrique.
His father Giovanni didn't understand him. Being from an older generation and poorer times, Elios radical decisions were too far removed from his own fathers way of thinking. Giuseppe was not able to accept what he thought was an offence against common sense and tradition, and therefore sought comfort in silence. Giovanni died in 1985 and tragically disinherited Elio. Determined to fight for his beliefs, Elio continued to work to buy back the winery and vineyards from his siblings. Elio stood firm then and still does today. Stubbornly he decided to change direction and to give a different interpretation to the family's wine – favoring elegance, finesse, and balance, following a strict regime in the vineyards, adopting new vinification and aging techniques in the cellar.
As of June 2016, the ownership and supervision of the farm has officially been transferred to Elio's daughter Silvia, who is a dynamic and passionate champion for her family business, and a part of the newer wave of great women winemakers in Piemonte.
Philosophy of Life and Work
– Vineyards are cultivated without the use of any chemicals or pesticides (unless it's strictly necessary) or any other substance that might interfere with the vine cycle or grape maturation.
– Use only copper and copper sulphate, and fertilize with organic cow manure.
– During the alcoholic fermentation they don't inoculate with yeast. Only indigenous yeasts are used followed by a natural malolactic fermentation.
– No filtering or clarifying of the wine.
– No substances are used to alter the color or structure of the wine.
– Extremely low use of sulfur.
Wine AdvocateHere's a classic expression of Nebbiolo that sees fruit sourced from four vineyard sites spanning the appellation. The 2013 Barolo is a wine of beautiful intensity and grace. The bouquet reveals a layered effect in which primary fruit aromas of cherry and blackberry segue in quick succession to spice, tar, licorice and toasted hazelnut. The wine offers strength and power, especially in terms of the full and generous way it spreads clear over the palate. There is a spot of heaviness or extra density on the finish. This wine needs a year or two to iron itself out.