Domaine Yvon Clerget Pommard Rugiens 2015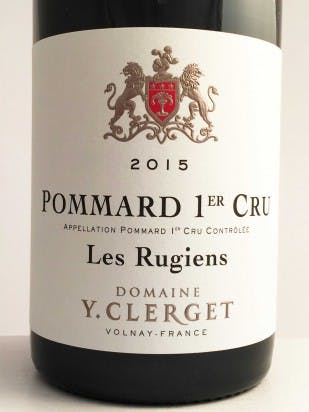 This is the wonderful story of the rebirth of a great domaine in Burgundy, with prime holdings and a talented young winemaker. Domaine Yvon Clerget and Thibaud Clerget is such a story. The Clergets have been working their vineyards in the Côte de Beaune for generations but since the patriarch's retirement in 2009, have been selling off all of their fruit. Fresh off several vintages with Domaine Hudelot-Noellat and not even 30 yet, winemaker Thibaud Clerget chose 2015 to mark the return of his family's domaine and this Pommard is one of his very special new releases. Made from one hectare in Rugiens across two plots - an upper parcel (20 year old vines) and a lower parcel (50 year old vines). Since the upper parcel was damaged by hail in 2015, only fruit from the lower parcel was used.
"The reborn Domaine Y. Clerget could very well turn out to be one of the great recent success stories in Burgundy… Readers should do whatever they can to taste these wines. [Thibaud] Clerget is just 28 and appears to have a brilliant career in front of him. Bravo!"
— Antonio Galloni, Vinous
VinousThe 2015 Pommard Rugiens is another super-expressive wine. Rich, pliant and wonderfully giving, the Rugiens is built on a serious core of fruity intensity. Black cherry jam, lavender, menthol and spice build into the supple, extroverted finish. I very much like the wine's immediacy, not to mention its impeccable overall balance.