Scala Ciro Bianco Calabria 2017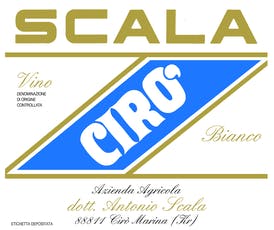 Unavailable
We're sorry, but this product is not currently available.
In the Scala family since 1949, the domaine is now run by Luigi Scala, who leads the production of Cirò wines following family traditions. From the growing of the grapes to the refinement and aging of the wines, he favors quality over quantity and aims to produce a distinguished Calabrian wine. The winery is truly a family business as Francisco Scala oversees the business side of the winery.
Calabria is the region which looks like the 'toe' of the boot. East and north of Sicily, and surrounding by sea almost completely, which influences its climate as well as its mountainous terrain. Interestingly, Calabria has one of the oldest records of human presence in Italy, which date back to around 700,000 BC. Scala's vineyard is comprised of 18 hectares for an overall production of 100,000 bottles. Most of the grapes are native varieties such as Greco, Gaglioppo, Magliocco, Nerello and Mantonico. They are cultivated in espalier on the hinterland plains and hills, on argillaceous and sandy soil. For farming, Scala exclusively uses organic products, such as lupins to fertilize the vineyards; it provides the soil with nitrogen and helps eliminate weeds. Luigi's grandfather used indigenous yeasts, but the current winemaker chooses to inoculate. They are now certified organic, starting with the 2016 vintage.
We tasted and loved this white made of 100% Greco, from vineyards located in Cirò (Crotone district), 100 to 150 meters above sea level. The vines were planted in 1997 and face south/south-east. The grapes are manually harvested, destemmed, softly pressed, and undergo fermentation in temperature-controlled stainless steel tanks - 16° to 18° C (61 to 64F) in order to preserve the aromas. After the fermentation, the wine is racked and left in tanks for 4 months. Only 12% alcohol.
Bottle ShopYou are immediately greeted by a highly perfumed nose of white flowers, apricot, lemon lime and honey blossom, followed by more of the same in the mouth. This is so clean, zippy and fresh, and very southern Italy in style. We can't wait to pair this with fresh seafood, goat's milk cheeses or on its own as a tasty, thirst quenching aperitif.