George T. Stagg Bourbon 2017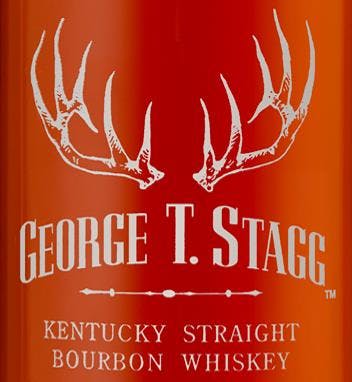 Unavailable
We're sorry, but this product is not currently available.
This is the 2017 release
Release: Fall of 2017

Proof for release: 129.2 proof

Recipe
Large Grain: Kentucky Corn; Distillers Grade #1 and #2
Small Grain: Minnesota Rye
Finish Grain: North Dakota Malted Barley
Cooking / Fermentation
Milling Screen: #10
Cook Temperature: 240 degrees Fahrenheit
Water: Kentucky limestone with reverse osmosis
Fermentation: Carbon steel / black iron fermenter
Mash: Sour
Distillation & Aging
Distillation: Double distilled; beer still and doubler
Proof off still: 135 proof
Barrel: New, white oak; #4 char; charred for 55 seconds
Barrel Maker: Independent Stave; Lebanon, KY
Barrel Entry Proof: 125 proof
Barrel Size: 53 liquid gallons; 66.25 original proof gallons
Warehouse: Warehouses C, K, M, & Q
Floor: 1, 2, 3 and 6
Evaporation loss: 54.03% of the original whiskey lost to evaporation
Bottling
Barrel Selection: 309 hand selected barrels
Filtration: None
Product Age: 15 years and 3 months old at bottling
Tasting comment: "Espresso, chocolate fudge, and tobacco"
This extremely hearty whiskey ages in new charred oak barrels for no less than 15 years. Straight out of the barrel, uncut and unfiltered, the taste is powerful, flavorful and intense. Open it up with a few drops of water, sit back and ponder the wonders of the universe.
TASTING NOTES:
Lush toffee sweetness and dark chocolate with hints of vanilla, fudge, nougat and molasses. Underlying notes of dates, tobacco, dark berries, spearmint and a hint of coffee round out the palate.
Whisky AdvocateCaramel. Caramel. Caramel. It comes early and remains to the finish. In between this caramel sandwich, it's nutmeg, cinnamon, jasmine, rose petals, baked apples, fudge, pecan pie, peanut brittle, and roasted peanuts. Over a mouth-coating palate, its complexity tingles and every note plays just under the rich and layered caramel that presents itself as a chew on the extremely long finish. This is a must-have sipper. —Fred Minnick