Uccelliera Rapace 2015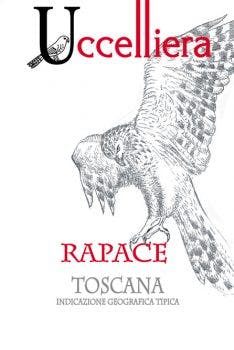 $39.99
Save $7.00 (17%)
$32.99
SKU 03900
750ml
This unique wine from a boutique Brunello di Montalcino producer is made of 70% Sangiovese, 20% Merlot and 10% Cabernet Sauvignon from vineyards in Castelnuovo dell'Abate, at elevations of 150-350 meters on well-exposed hill slopes south-east of Montalcino. Maturation takes place in small French oak barrels for a minimum of 18 months, with further bottle aging for a minimum of 6 months before released for sale. It is named Rapace, which is a 'bird of prey' such as an eagle or a hawk. 'Proprietor Andrea Cortonesi fashions big, full-bodied wines from his vineyards in the southern part of the Montalcino zone. He represents the finest of the artisan approach to making wines in Montalcino.' -- The Wine Advocate

We had the amazing opportunity to visit the Uccelliera estate during the 2009 harvest, and literally watched Andrea and his team bringing in and sorting handpicked grapes on the back of a pick-up truck. Located in the Montalcino zone, his vineyard was part of the Ciacci Piccolomini estate until 1986 when Andrea purchased the land. He renovated an existing building, as well as built, with his own hands, another building on the estate, from rocks and stones he sourced from part of the land that he would ultimately make into a vineyard parcel. He is a big, larger-than-life man, with a passion for winemaking and a true lust for life. His full-bodied Rosso has a limited production, featuring a powerful nose, and lush, concentrated fruit; his Brunello has a cult following and big scores to match. It features gorgeous aromas of exotic spices and dark red fruits with a lush expansive palate, super concentration and a caressing, velvety texture.
Wine AdvocateThe Uccelliera 2015 Rapace is a blend of 70% Sangiovese, 20% Merlot and 10% Cabernet Sauvignon, all aged in French barrique for 18 months. The wine was bottled in July 2017 and was released to market in January 2018. Some 11,200 bottles were produced. This bottle takes us back in time to what was a very rewarding growing season in Tuscany. The primary fruit is surprisingly well intact in this vintage (the oldest in this mini vertical, which also includes the 2016 and 2017 Rapace). Dark, plummy fruit rises to the top, pulling opulent tones of barbecue spice and smoke along. The tannins have surrendered to a soft and silky side.
Wine SpectatorThis touches all the typical varietal notes of cherry, strawberry, leather, earth and bitter almond. Nicely balanced, in a slim frame, lingering on the finish, with mineral and fruit accents. Sangiovese, Merlot and Cabernet. Drink now through 2028. 800 cases made.