Santo Wines Santorini Assyrtiko 2018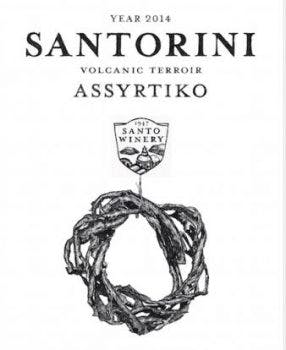 Santo Wines was originally founded in 1947 as the Union of Santorini Cooperatives, and represented all of the wineries on Santorini island. Today, Santo Wines is the biggest producer on Santorini. The new, state-of-the-art winery was built in 1992 and is situated on the edge of the Caldera in the village of Pyrgos. Santo Wines is committed to producing authentic Santorini wines of superior quality while respecting the Santorini traditional vinification techniques and protecting the precious Santorini vineyards. Made of 100% Assyrtiko grape grown in volcanic soils and aged in stainless steel, this is made from vines grown on their own rootstock and trained in the traditional basket style to protect from wind and conserve water. Serve this with seafood with lemon/lime, ceviche, gazpacho, salted fishes (cod/white anchovy/sardine), goat and sheep's cheeses and green olives.
Wine AdvocateThe 2018 Assyrtiko, the classic Santorini, is an unoaked monovarietal that comes in at 13.3% alcohol, 3.3 grams of residual sugar and 5.9 grams of total acidity. A straightforward Assyrtiko, this has average concentration and a reasonable finish that seems a bit different in nuance. The back label claims it is "brightly acidic with a textural mineral smokiness." The acidity is actually well controlled and fairly subtle. If anything, this sometimes seems just a bit flat. Nothing about this will make you think it's an acid-freak wine. That "mineral smokiness" is a good descriptor, though. It may point to a trace of reduction, although that is very subtle-it's not like this gives off charcoal and smoke. Neither, however, does it seem to have saline or salt nor the big fruit that Assyrtiko can deliver in other incarnations. This walks down the middle-of-the-road and stays fairly mute. Drink it on the younger side.