Wyoming Whiskey Outryder American Straight Whiskey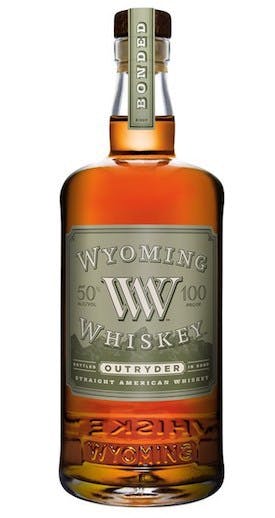 This is authentic Wyoming Family Whiskey. Wyoming Whiskey is not owned by a beverage giant or traded on a 'big board'. W.W. is an independent, family-owned whiskey maker with a world-class distillery in the Big Horn Basin of Wyoming. This company and its products are a collaboration between the partners and 97,818 square miles of Wyoming. And the state of Wyoming defines the whiskey.
Outryder is a straight American whiskey with higher rye content than Wyoming Whiskey's Small Batch Bourbon, but short of a true rye whiskey. They produce it like this on purpose to be different and great. Perfect for sipping or making cocktails., we tasted and positively loved it. It's crafted from two distinct mash bills distilled in November of 2011. The first mash bill contains 48% winter rye, 40% corn, and 12% malted barley and the second reflects a traditional bourbon mash bill of 68% corn, 20% winter rye, and 12% malted barley. In keeping with Wyoming Whiskey's tradition, these grains are all non-GMO and grown in Byron, Wyoming by Rageth Farms.
100 PROOF. BOTTLED IN BOND.
Look for brown baking spices of cinnamon and allspice with creamy browned butter in the nose

PALATE: clove and allspice, freshly baked dark rye bread with hints of orange blossom honey
MOUTHFEEL: cinnamon spice with creamy butterscotch pudding
FINISH: long, spicy rye finish coupled with hints of buttery toffee
Wine EnthusiastThe rich butterscotch scent doesn't quite prepare you for the blast of alcohol heat that accompanies the very first sip of this 100-proof whiskey; underneath that, butterscotch and oak emerge on the palate. With dilution, the flavor softens to vanilla-almond flecked with cinnamon and clove. Made with rye, corn and malted barley.