Antinori Guado al Tasso Il Bruciato 2016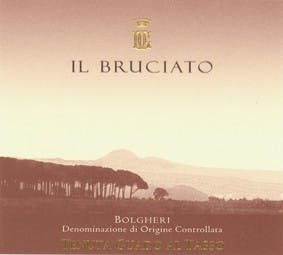 Unavailable
We're sorry, but this product is not currently available.
The Guado al Tasso estate, which is owned by the Antinori family, is located approximately 50 miles to the southwest of Florence near the medieval hamlet of Bolgheri. The property extends from the coast of the Tyrrhenian Sea to the inland hills and includes wine vineyards as well as wheat, barley, and oat fields, olive groves and woodsy lands which are utilized to raise Cinta Senese pigs, a prized local breed.
The Antinori family has been involved in the production of wine for over six centuries, ever since, in 1385, Giovanni di Piero Antinori entered as a member, the "Arte Fiorentina", the Winemakers' Guild of the city of Florence. During this entire period, thorough twenty six generations, the family has always directly managed this work with courageous and innovative decisions, but always maintaining, unaltered, a fundamental respect for tradition and for the territory in which they have operated. Today the firm is run by Albiera Antinori with the support of her sisters Allegra and Alessia. Marquis Piero is now the honorary president of the company. Tradition, passion, and intuition have been the three driving principles which have led the Marquis Antinori firm to become a leader in Italian wine.
Il Bruciato from Bolgheri DOC Superiore is made of 55% Cabernet Sauvignon, 30% Merlot, 15% Syrah. 100% Hand Picked fruit. Aged in barrel for 8 months, followed by 4 months in bottle before release.
Wine AdvocateThis is absolutely one of the best value wines you will find in Italy and I suspect beyond. The 2016 Bolgheri Rosso Il Bruciato is a blend of 65% Cabernet Sauvignon, 20% Merlot and 15% Syrah. With more than one million bottles made, there should be no problem finding it at your nearest wine merchant. Once you do locate it, I enthusiastically recommend that you pick up a few cases. This vintage comes together with seamless intensity and smoothness. You get so much dark fruit flavor, paired with soft tannins, spice, smoke and dried blackberry. Il Bruciato pulls off its magic effortlessly. It doesn't try to be anything other than it is: Delicious.
Bottle ShopThis flavorful Tuscan blend, made of mostly Cabernet Sauvignon with Syrah and Merlot, has dark plum, black cherry, sweet spice, toasted coffee and earth flavors. Although densely packed and big in style, this wine has a balanced use of oak aging, showing off the sun-ripened fruit of Bolgheri. Supple yet fresh, this wine makes you come back for more.