Hillrock Estate Distillery Double Cask Rye Whiskey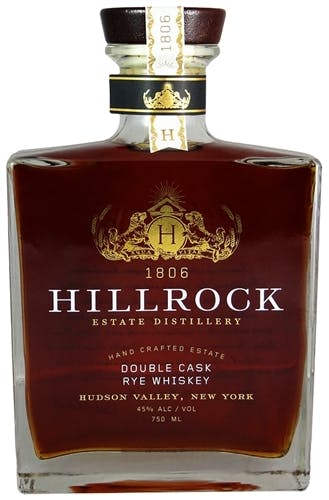 Unavailable
We're sorry, but this product is not currently available.
In the early 1800's, New York produced more than half of America's Barley and Rye and the Hudson Valley was the country's breadbasket. With abundant high quality grain, local craft spirits flourished and over 1000 farm distilleries produced Whiskey and Gin reflecting the unique
terroir
of the region. In the 1930's, Prohibition forced these distilleries to shut their doors and this wellspring of American spirits was left dry.
THIS ITEM IS FOR IN-STORE PICK-UP ONLY
​
Hillrock Estate Distillery is changing this. Their mission is to produce the finest hand-crafted spirits made with their own grain, floor malted, craft distilled in copper pot stills, aged in fine oak and hand bottled at the estate in the Hudson Valley Highlands. Crowned by a fine 1806 Georgian house built by a successful grain merchant and Revolutionary War Captain and meticulously restored to its original beauty, Hillrock Distillery overlooks the estate's rolling barley fields and the distant Berkshire Mountains.
The Double Cask method is made by aging the rye for a couple of years in standard American oak barrels, then finising the rye's aging in a second barrel made from deeply charred wood, which gives the whiskey a ton of mellow sweetness and vanilla.

THIS ITEM IS FOR IN-STORE PICK-UP ONLY