Barrell Craft Spirits Batch 24 Cask Strength 9 year old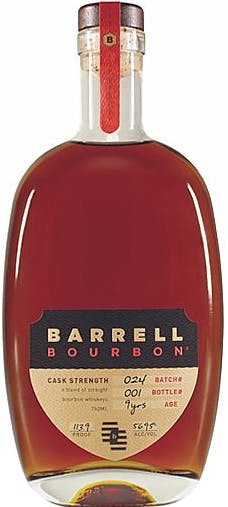 Barrell Bourbon Batch 023 is a blend of 10, 12 and 15-year-old barrels. Focused on a balance of richness and depth from the older barrels. The blend mingled for a couple of months to heighten the lushness and complexity. The methodically layered in 15-year-old barrels to bring out notes of tropical fruit and angelica spice. The result is an evolving bourbon with layers of flavor.
A blend of straight Bourbon Whiskeys
Distilled and aged in Tennessee, Kentucky and Indiana
Selection of 10, 12, and 15-year-old barrels
Aged in American white oak barrels
Crafted and bottled in Kentucky
107.78 proof cask strength bottling
Mash bill: corn, rye and malted barley
FLAVOR NOTES
Cinnamon donuts lead into earthy notes of walnut, leather, and fallen leaves. Subtly fruity, with hints of white currant and honeydew melon peeking out over the classic rye spice of angelica, catnip and black licorice.
Nose: Opens sweetly, on buttered pancakes with maple syrup and cinnamon donuts. Gradually the aroma shifts to exotic, earthy notes of forest floor, cracked walnut, leather, red miso, and incense. Fruits feel ancillary, but kiwi, white currant, mulled cider and raspberry pastille all make an appearance. The rye spice is pronounced, lending bay leaf, angelica and chocolate mint.
Palate: Gently sweet with chewy tannin, the evolution on the palate mirrors the nose. Honey, coffee cake and a touch of brownie taking the lead. Dry rose follows, on walnut shell, fallen leaves and portobello mushroom; reminiscent of an old Oloroso sherry. There's a juicy brightness that makes notes of honeydew melon, grenadine and orange zest come alive.

Finish: Cinnamon donut accompanied by nocino, black licorice and tar. As it fades, it softens to leather, orange peel and apple blossom.

With a few drops of spring water
Fresh, with a bright sea salt note rounded out by oregano and catnip. The palate grows creamier, tasting of cereal milk.
The idea behind this Barrell Craft Spirits is to "explore the unique effects of different distillation methods, barrels and aging environments, and bottle them at cask strength." This is accomplished through outstanding relationships within the tightly knit spirits community and sourcing the best distillates available without compromise. By definition, the bottlings of Barrell Spirits are limited in nature with new releases hitting the market frequently. Barrels are sourced from around the country (and soon the world), shipped to Barrell's facilities in Georgetown and Frankfurt, Kentucky for additional aging and bottling. Barrell Craft Spirits is dedicated to moving towards complete transparency.