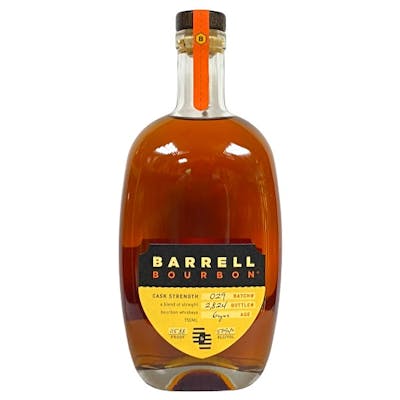 SKU: 03815
Barrell Craft Spirits Barrell Bourbon Batch 29 6 year old
---
---
A blend of straight Bourbon Whiskeys
Distilled and aged in Tennessee, Kentucky and Indiana
Selection of 5, 6, 8, 9, 13, and 15-year-old barrels
Aged in American white oak barrels
Bottled in Kentucky
115.88 proof cask strength bottling
FLAVOR NOTES
Many bourbons just taste like caramel, some older bourbons taste like oak, but this -- this bourbon is a cherry bomb. At times bright and juicy, at others, brooding and oxidized, but while there are many flavors to be found, cherry stands above them all.
Nose: Supporting notes that span sweet desserts, woodsy herbs, and rich oils, but their presence is an afterthought to the singular and intense focus of this whisky's nose, and that focus is squarely on old, comforting cherry. The oak is sweet and nutty, displaying amaretto and sweet, raisonated grapes. Deeper bass notes of sweet potato pie, walnut shells, and freshly ground coffee flesh out the aromatic register. The influence of rye is subtle here, potpourri, earl grey tea, and bouquet garni whisper at the periphery.
Palate: The candied texture that falls short of syrupy and a just-gentle tannin suggest minimal oak extraction but significant concentration over long years spent slowly evaporating in a rickhouse. Like the nose, a bright, juicy acidity puts the focus squarely on a note of cherry so monumental that almost nothing else breaks through. A bit more floral than the nose, candied violet and lavender are just able to peek through, along with a steely minerality. Eventually, some oxidized notes evoke an old oloroso sherry, among them hazelnut, molé sauce, and stewed mushroom.
Finish: A gentle, yet complex finish that makes one imagine a flavor wheel in thin air. This mysterious yet fruity bourbon leaves the palate with blood orange, rosehip, hibiscus, and sumac.
​With a few drops of spring water
Lychee, pineapple and honeydew melon emerge, and heather, sage, and cigar smoke lend a welcome complexity. This is followed by baklava, Boston cream pie, and a creamy brown ale, which lends a subtle hoppy note to the finish.
Some new press on the batch 29
Drew Beard of Drinkhacker reviews Barrell Bourbon Batch 029, rating it a 8.5/10 and calling it "surprisingly delicate but still engaging."
-
Barrell Bourbon Batch 029 scores second place in a blind taste test for UPROXX's recent article Barrel Proof Bourbon Whiskeys From 2021, Blind Tested And Ranked.
-
Breaking Bourbon reviews Barrell Bourbon Batch 029, saying that this release "offers a range of different flavors that all come together while still maintaining a familiar-enough bourbon-centric base to satisfying results."
-
Bourbon Culture reviews Barrell Bourbon Batch 029, saying, "if you liked Batch 020 [...] this will also be right up your alley."
-
Bourbon and BS Podcast sip Bourbon Batch 029 in their recent episode, discussing the whiskey and how it pairs with their cigar choice for the week.
Initially soft and reticent on the nose, with water revealing the sweet maltiness of a vanilla shake, as well as buttered toast, almonds, and melon. A smooth creamy palate shows honey, blueberry pie, and vanilla ice cream. Baking spice and more pie notes emerge, along with toasted walnuts, bitter coffee, chocolate, and a finish of cinnamon-sprinkled vanilla custard and baking spice. A hot one, even with water, but loaded with well-integrated flavors.
wa

91

Wine Advocate

ws

91

Wine Spectator

st

91

International Wine Cellar