Kosta Browne Sta. Rita Hills Pinot Noir 2016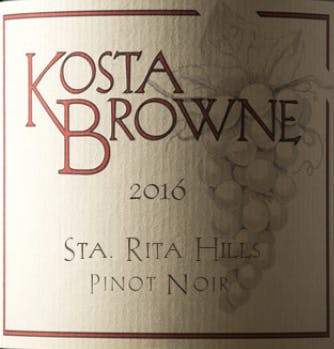 Unavailable
We're sorry, but this product is not currently available.
Kosta Browne began as a dream shared by Dan Kosta and Michael Browne. In the summer of 1997, while working at John Ash & Co. restaurant in Santa Rosa, California, Dan and Michael decided to venture into winemaking. They saved tip money and eventually had enough to buy a half ton of Pinot Noir, a used barrel and an old hand-crank stemmer-crusher, a purchase that marks the beginning of Kosta Browne. Since that vintage, they have nurtured relationships with the best growers and honed their winemaking skills, making sure to focus on the vision and values with which they began.
In 2001, Dan and Michael partnered with Chris Costello and his family, who collectively provided the business experience and relationships that gave Kosta Browne the necessary resources to grow. Chris was able to craft a business plan that conveyed the appeal of the Kosta Browne story and sensibly described its future, helping to convince many wary family members and friends that investing in the vision would be worth it. Today, Dan, Michael and Chris work very closely to maintain the quality and consistency of the entire Kosta Browne experience.
The Russian River Valley Pinot Noir is a blend of vineyards which lie in cool areas throughout the Russian River Valley. This region's climate is sculpted by the regular intrusion of cooling fog from the Pacific Ocean a few miles to the west. The wine shows a range from bright red fruits to brambly voluptuous flavors, all hallmark characteristics of the appellation. The individual lots are all unique, providing distinct aromas and flavors, giving the final blend broad complexity.
'Based out of Sebastopol, Kosta Browne's Dan Kosta, Michael Browne and Chris Costello continue to fashion a bevy of brilliant Pinot Noirs from a number of sites spread throughout California. The big news at this estate, however, was the purchasing of a controlling interest by J.W. Childs Associates out of Boston. Concerning the impact of this change to the wine, the winemaking remains untouched and nothing I heard during my visit gave me pause concerning the quality of this estate going forward. In addition, Browne and John Childs (the CEO of J.W. Childs Associates) have previously worked together in the past with their Cirq label, so I think Kosta Browne lovers can rest easy. Going forward, this team is increasingly looking to own and farm their vineyards, so expect quality to hold steady or even increase. Looking at their 2013s, this was obviously a great vintage for this estate and all of the wines showed sensational purity and freshness paired with layered, nicely concentrated and textured profiles. I'd say it's the finest lineup I've tasted from this estate.' Wine Advocate
Wine SpectatorPlump, rich and juicy, this lithe, graceful charmer is centered on blackberry and wild berry flavors and smoke and charcoal accents. Easy to drink and has the balance for short-term aging. Drink now through 2024. 2,400 cases made.