Fonseca Bin No. 27 Finest Reserve Porto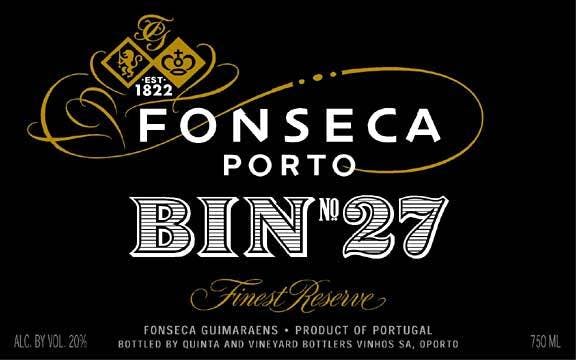 $19.99
Save $3.00 (15%)
$16.99
SKU 03685
750ml
The Fonseca firm was founded in 1815 when Manuel Pedro Guimaraens acquired a majority in the merchant company Fonseca & Monteiro. Successive generations of Guimaraens have upheld the family's reputation for producing bold, expansive and complex Porto wines. The Fonseca family, of Brazilian origin, conducted trade in various products primarily with Brazil, but by the 1820s, Fonseca & Monteiro dealt solely in Port wines. Today, David Guimaraens, Wine Director for the Fladgate Partnership, represents the 6th generation of his family involved in making Fonseca's wines.
BIN 27, which is a sweet, fortified wine, is produced primarily from grapes from Fonseca's own quintas in the Cima Corgo—exceptional fruit that results in a wine of high quality and consistency from year to year. A ruby-style Porto blended from reserve wines selected for their intense depth of color and fruit character, BIN 27 is aged for four years in neutral wood vats before bottling.
Wine EnthusiastFull, rich and fruity wine, enticingly aromatic, with strawberry fruits and an easy, just tannic edge. The wine is soft, ripe, the fruits finely balanced with acidity.