Terrassen Cabernet Franc 2017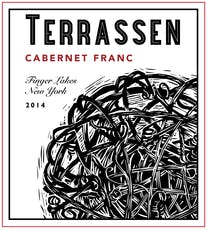 $34.99
Save $5.00 (14%)
$29.99
SKU 03683
750ml Bottle
This unique American beauty is very much a 'Loire' expression of the Cabernet Franc grape. Winemaker Thomas Pastuszak is the Wine Director at the critically-acclaimed Nomad restaurant in NYC, and he specializes in exquisite food and wine pairings. Thomas is also passionate about wines from the Finger Lakes of New York, for pairing with NoMad's Mediterranean cuisine so he started the Terrassen project to make his own food-friendly wines. He keeps 50% of the stems for this Cabernet Franc to maintain tannin and texture before a one week cold soak, and then he ages the wine for eight months in 7 year old Burgundy barrels. In the Loire Valley of France, the regions of Chinon and Saumur produce dry reds from the food-friendly Cabernet Franc grape, which has also become a sommelier favorite across NYC.

Look for black cherry, mocha and river rock aromas and flavors, with good grip and a dense, slightly chewy texture. Definitely a clean red (it has only 12% alcohol which we love), yet this has determined richness and body. Thomas only produced 3 barrels, which made 70 cases. So snatch this up for your collection as soon as possible. We will be recommending it for Thanksgiving, we cannot wait to try it with roasted white meats and vegetables. We would also suggest serving Terrassen Cab Franc with oily fishes in rich sauces.

The Finger Lakes region has tons of minerality in the soils; the terroir here is heavily influenced by the lakes which encompass all of the vineyards. The region is not as cold in Winter as the Mosel Valley of Germany, for example, and not as warm in Summer as the Loire Valley in France. So any notions of the Finger Lakes being too cold or too extreme for vinifera grapes are not true. Specifically for Terrassen, all of the grapes are coming from Seneca Lake, the deepest lake on the eastern side of the region, which is known for very consistent fruit ripening and moderate temperatures.