Barone Cornacchia Montepulciano d'Abruzzo Vigna Le Coste 2012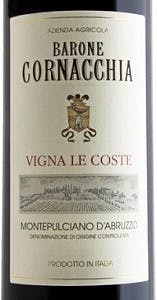 Unavailable
We're sorry, but this product is not currently available.
Azienda Agricola Barone Cornacchia is among the oldest farms in the province of Teramo in Abruzzo. The land tenure was established at the end of the 16th century by feudal concession of the viceroy of Naples and with the appointment of a barony title. At that time the Baroni Cornacchia family dwelt in the Fortress of Civitella and controlled the fiefs situated on the north-eastern border of the Bourbon kingdom. At the end of the 19th century, with the Unification of Italy and after a long period of battles, the Cornacchia family left the Fortress of Civitella and settled in the hunting reserve where the present winery is located.
Barone Filippo Maria Vizzarro Cornacchia (1872-1944) restored and handed down the viticultural traditions of the region, and after the devastating period of phylloxera that spread all over Italy at the beginning of the 20th century, he re-planted the vineyards to all of the ancient clones. At the beginning of the 20th century he started to produce 'Montepulciano d'Abruzzo' wine and used it to participate in national competitions, receiving the first official awards in the early 1930's. Today his ancestors continue this great tradition of classic wines of Abruzzo. Piero Cornacchia works with his son Filiippo and daughter Caterina (who we had the great pleasure of meeting and tasting her family's wines with); encouraging the company philosophy of enhancing the typicality of Montepulciano d'Abruzzo, showing the uniqueness of the soil in this area of Abruzzo through organic methods, and working naturally and organically in the winemaking process.
'Le Coste' is made of 100% Montepulciano d'Abruzzo from a little ancient Montepulciano single vineyard and it is the most representative of the Cornacchia family's wines. Hand picked grapes are de-stemmed, macerated and fermented, followed by two years in traditional large oak Slavonian barrels. The family pairs this wine with Spaghetti Pomodoro, Beef dishes and/or aged cheeses and salumi.