Meiomi Chardonnay 2018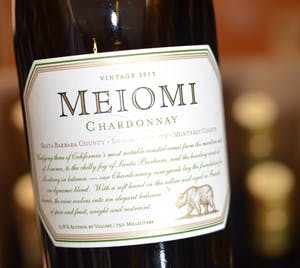 Meiomi was founded in 2007 by Joe Wagner of Caymus fame, with this goal: "Blending Pinot Noir and Chardonnay from three coastal appellations for vintage consistency, coastal integrity, and abundant flavors." The name Meiomi, which means "coast" in the language of the coastal-dwelling Wappo and Yuki tribes, pays tributes to its origins. The Chardonnay is made from vineyards carefully chosen, and through careful blending, they achieve balance, complexity, and richness with unique aromas, flavors, and textures.

Look for bright, enticing layers of tropical fruits, heightened by enchantingly sweet smells of brown sugar, honey, and butterscotch. Notes of mango and citrus zest enhance the complex palate. The lush, creamy mouthfeel is elevated by subtle flavors of honey and butterscotch.
27% Santa Barbara County: Exotic sweet spice and lively tropical fruit
36% Sonoma County: Crisp apple and lean minerality
27% Monterey County: Ripe stone fruit and a round, creamy texture