El Jolgorio Nuestra Soledad Mezcal Joven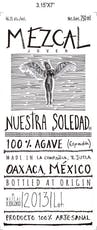 Unavailable
We're sorry, but this product is not currently available.
This artisanal Mezcal is crafted by t
he Cortes Family and the El Jolgorio mezcaleros. They have distilled this small batch, joven mezcal with the same care and tradition that has gone into every bottle of the El Jolgorio lineup.
La Compania is a small town in the district of Ejutla (35 miles south of Oaxaca City, located in the south of the Valles Centrales Region). The palenque is well off the valley floor and decidedly upslope of 'the mountain,' obviously referred to as La Montana. It is here that Gregorio and Gonzalo Hernandez cultivate and distill the 100% organic Espadin into Nuestra Soledad. One brother works the field the other handles distillation.