Contratto Aperitif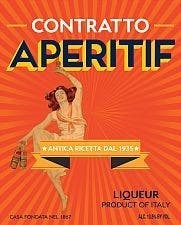 Unavailable
We're sorry, but this product is not currently available.
To wander through the caves at Giuseppe Contratto's ancient winery in Canelli is to shake the living hand of almost 150 years of tradition of Italian wine and spirit production. The very first bottles of Italian methode champenoise were made here, as was the first vintage-dated Italian methode champenoise— Metodo Classico Extra Brut in 1919. The family also produced high quality spirits...the first Contratto Vermouth recipes date back to the 1890s. In the 1920s the family's Vermouth production increased as most of the Vermouth was exported due to its popularity as the 'it' drink of the Belle Epoch. Contratto Vermouth di Torino was the most fashionable of all brands in the 1930s.

Today, with recipes older than 100 years and passed on by generations, Contratto is very excited about the reintroduction of many historic products, such as high quality Vermouth, this liqueur 'aperitif' and another called 'bitters.' These two are the equivalent of Aperol and Campari yet made with all-natural products. In haute cuisine and mixologist circles, products such as these are in high demand as there is a fashionable artisanal revival of ingredients for classic and contemporary cocktails. And...Giorgio Rivetti of La Spinetta, the esteemed Piemontese producer is leading the way for Contratto. He has revived the property and is dedicated to resurrecting the treasured Italian tradition of exceptional aperitifs and digestifs.

We tasted and loved this alternative to Aperol for creating spritzy Prosecco drinks and/or a simply refreshing aperitivo over ice with a slice of orange. Look for citrus fruit, orange blossom and sweet rhubarb on the nose. White stone fruit, marzipan and a soft bitterness comes through on the palate. The gentian flavor is noticeable, but delicate, and masterfully balanced with the gentle sweetness of this fine aperitvo. The gorgeous color comes naturally from beets and carrots versus additive coloring like other aperitivo's on the market.