Cono Sur Organic Pinot Noir 2018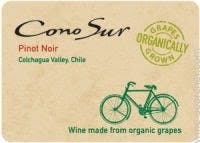 We had the amazing opportunity to visit the Cono Sur winery in 2016. This wine was one of our favorite discoveries... first off, Cono Sur is a wine symbolized by the bicycle which is featured on all of their labels, and and the wines are ruled only by nature's cycles. They make several different labels, and this one is from their certified organic line. An organic wine must come from vineyards certifiably farmed without the aid of any chemical or synthetic products. Fertilization as well as prevention and control of possible plagues or diseases are tackled only with natural techniques and resources such as flowers, grass, geese and the introduction of beneficial insects. Cono Sur winery also lessens their carbon footprint by riding bikes all around the estate in lieu of trucks and cars whenever possible.

This Pinot Noir, made from organically grown grapes certified by the BCS Öeko Garantie GmbH, bears the spirit of their estate workers, pedaling their way to the vineyards and all around them each day. Quite appealing with its rich, deep red color, this wine has a complex and developed nose that is governed by ripe wild fruit aromas, where notes of cherries and berries are enhanced by slight toasty hints. This Pinot definitely has a personality of its own; it's tasteful, with soft tannins and an excellent structure. Aged 80% in French oak, 20% in stainless steel for 10 months. The winery likes to pair this Pinot with meat-filled empanadas, a specialty appetizer of Chile. Pinot Noir is one of the most versatile varieties in the world, so try it with salmon, poultry, pork or lamb. Creamy sauces and dried fruit seasonings are also an excellent choice.