Blandy's Colheita Bual Madeira 2002 500ml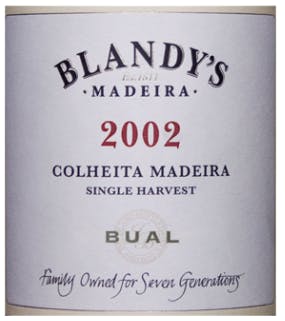 Unavailable
We're sorry, but this product is not currently available.
In the 18th century, Madeira wine accounted for 75% of the wine consumed in the US. Madeira parties and clubs were commonplace---Americans loved this unique sweet wine! A fortified wine made on the volcanic island of Madeira off the coasts of Portugal and Morocco, Madeira wines are aged through a heating process in which they lose up to 15% of their volume per year. We met Chris Blandy and tasted through a full range of these beautiful historic wines. The constant oxidation in the aging process greatly contributes to the fact that Madeira, once opened, can last opened for many many months. Chris told us a story about opening a 1966, and leaving it open for a full year, and the wine was still fresh and perfect to drink!
The 2002 Colheita Madeira made of the Bual grape is an elegant, balanced and delicious example of colheita. Refreshing vanilla, flowers, spices and dates come through on the nose followed by an intense yet energetic palate with plenty of acidity to sustain the sugar content at close to 100 grams. The coolness of the vintage and the polished Blandy style give this such grace, elegance and harmony.
Blandy's Colheita is fined and does not require decanting. It has been bottled when ready for drinking and will keep for several months after opening. It is a superb accompaniment to dessert dishes, especially fruit, cakes, rich chocolate puddings and cheeses.
It has long been said that John Blandy, the founder of the family business, arrived in Madeira in 1807 aged twenty-three as a quartermaster to General Beresford, commander of the British garrison. Yet prolonged research among army lists yielded no mention of a John Blandy serving in Madeira. The truth was found instead by the Madeira wine lover and expert Emmanuel 'Mannie' Berk. In August 2006 he found a letter of introduction sent from London to Messrs Newton, Gordon, Murdoch, wine merchants in Madeira, which immediately solved the family mystery: 'Sirs! At the desire of our particular friend, Richard Fuller Esq., Banker in this City, we beg leave to introduce Mr John Blandy who visits your Island on account of ill health, and wishes to obtain employment in a Counting House. We shall be obliged if you can promote his views, and accordingly recommend him to your attention.' The letter is dated 23 December 1807, implying that John Blandy arrived in the island early in 1808 rather than with British forces some months before.
For 200 years, Blandy's Madeira has been synonymous with quality Madeira wine.
The Blandys are unique in being the only family of all the original founders of the Madeira wine trade to still own and manage their own original wine company. The family has played a leading role in the development of Madeira wine throughout its long history and members of the family continue to live on Madeira, maintaining a tradition that goes back to 1811.
Michael and Chris Blandy are the 6th and 7th generations to work in the business.
Wine EnthusiastThe sweetest of the Madeira single-variety wines, this Bual is still laced with intense acidity. That brightness is contrasted by the toffee and caramel flavors, yielding a wine that is superrich while remaining so fresh at the end. This fine wine is ready to drink.
Wine SpectatorDeep, rich and exotic-tasting, with plenty of smoky accents to the dried mango, apricot and roasted pineapple flavors, featuring notes of crème brûlée. Very fresh midpalate, presenting an unctuous finish of ginger and cream. Drink now through 2050. 500 cases made.