Bodega Chacra Cinquenta y Cinco Pinot Noir 2017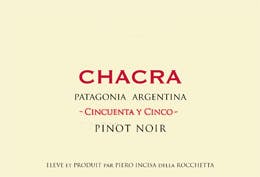 We have been fans of Bodega Chacra for several years, since we first discovered the wine through our connection with Kobrand Wines & Spirits. Chacra is owned and managed by Piero Incisa della Rocchetta, the grandson of Marchese Mario Incisa della Rocchetta, who was the creator of Sassicaia, the world's first Super Tuscan and founder of the great San Guido estate in Bolgheri. The Marchese was a pioneer in his time, and Piero is now following in his spirit of his footsteps by doing something positively thrilling in Argentina: producing PINOT NOIR versus MALBEC.
Piero's Pinot Noirs from Patagonia are made with organic biodynamic methods, in an area with a dry climate and a fresh, constant breeze coupled with wonderful South American sunshine. He found an old plot of Pinot Noir planted in 1932 by Italian immigrants, from which he began producing a Pinot labelled Treinta y Dos, followed by this wine, from a plot planted in 1955, hence the name Cincuenta y Cinco. All of his Pinots share an elegant, buoyant, fresh and floral quality that we personally very much enjoy. Since Chacra's inception, Piero has cut back on the new wood treatments and consciously keeps the alcohol levels low.

Read this great article about Piero and Chacra on newyorktimes.com

Wine AdvocateI nearly fell off my chair when I first put my nose in the glass of the 2017 Cincuenta y Cinco. I cannot remember such balance and elegance in a wine from Chacra before. It's floral, mineral and super tasty, with an almost salty finish—refined and detailed like no other Pinot Noir from Argentina. It's only 12.8% alcohol and retains very good acidity. Of course, it comes from a vineyard planted in 1955 ("cincuenta y cinco" means "fifty five" in Spanish) that is worked organically and biodynamically. It fermented with full clusters and indigenous yeasts in concrete vats and was left to infuse with the grapes' aromas and flavors. Thirty percent of the wine was kept unoaked, while the rest matured in second and third use French barrels with the lees. This is truly unbelievable. Even Piero Incisa della Rocchetta doesn't understand how they managed to get a wine with such low alcohol and high energy and freshness in a vintage like 2017. 20,829 bottles and 150 magnums were filled in December 2017.