Bodega Chacra Cinquenta y Cinco Pinot Noir 2015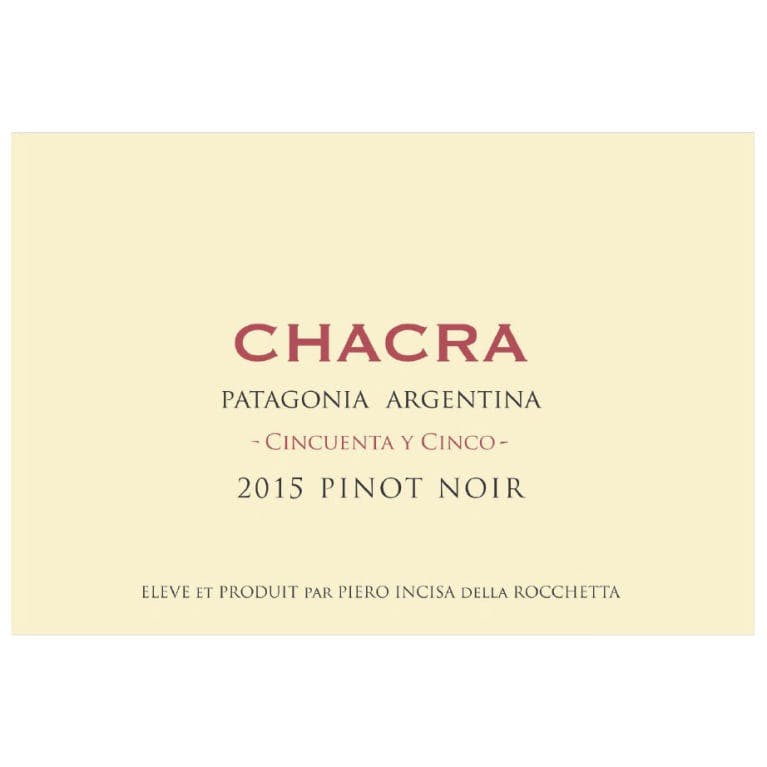 Unavailable
We're sorry, but this product is not currently available.
These are HALF BOTTLES OR 375 ML
Bodega Chacra is a Pinot Noir specialist in Patagonia and the Wine Advocate has repeatedly raved that 'these are the best Pinot Noirs from Argentina, reaching world-class levels...' We have been fans of Bodega Chacra for several years, since we first discovered the wine through our connection with Kobrand Wines & Spirits. Chacra is owned and managed by Piero Incisa della Rocchetta, the grandson of Marchese Mario Incisa della Rocchetta, who was the creator of Sassicaia, the world's first Super Tuscan and founder of the great San Guido estate in Bolgheri. The Marchese was a pioneer in his time, and Piero is now following in his spirit of his footsteps by doing something positively thrilling in Argentina: producing PINOT NOIR versus MALBEC using organic/biodynamic methods.

Wine AdvocateThe 2015 Cincuenta y Cinco, pure Pinot Noir from a vineyard planted in 1955 (cincuenta y cinco is Spanish for 55), is an elegant, direct red with tension obtained by fermenting the grapes from those stony, sandy and clay-rich soils in concrete vats with half of full clusters and indigenous yeasts. Forty percent of the wine matured in second use French oak barriques for eight months, while the rest of the volume was kept in concrete until blending and bottling. I tasted it twice because proprietor Piero Incisa della Roccheta was not happy with how the first bottle showed, even though I found it quite good. But he was right, the second one was even better, with more energy. They consider 2015 one of their finest vintages. This has a nose of ripe cherries, some violets and a sense of energy and freshness, with no trace of oak. The palate is extremely elegant, with ultra fine tannins and gobsmacking balance, all about subtleness without feeling diluted. This has power and elegance. For now and the next 10+ years. A superb showing for Cincuenta y Cinco. 17,500 bottles were filled in early January 2016.