El Dorado Cask Aged Rum 12 year old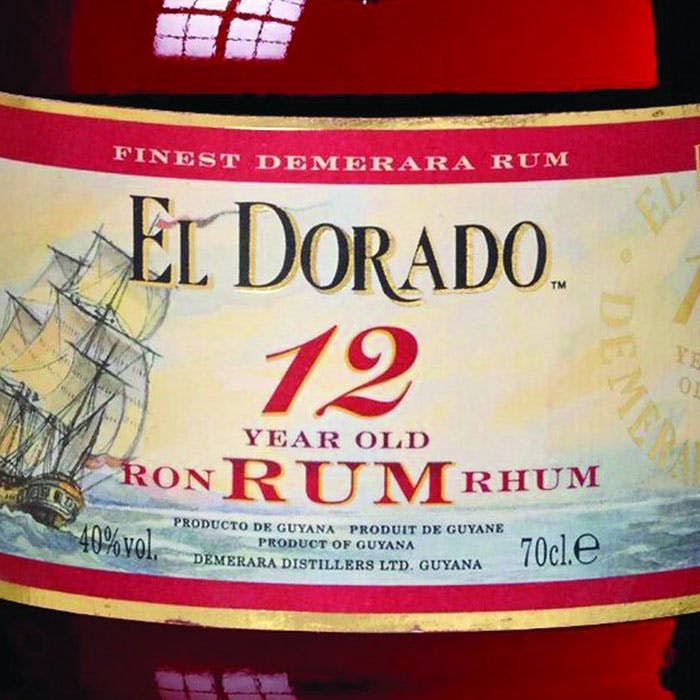 This is an exciting new addition to our Rum selection. El Dorado crafts super premium aged Rums at a surprisingly affordable price to the consumer. The evolution of rum distillation dates back nearly 400 years. Upon arriving in Guyana in 1498, Christopher Columbus began planting sugar cane. 150 years later the Dutch came to Guyana and established the first settlements of Essequibo and Berbice, introducing the cultivation of sugar cane along the coastal plain and the banks of the great rivers. At its peak Guyana was home to over 300 sugar estates with distilleries, each producing their own signature rums. Over the years these 300 sugar estates were whittled down to one lone estate and distillery, "Plantation Diamond," located on the east bank of the Demerara River.
Today, Demerara Distillers (the parent company of El Dorado Rum) operates that last remaining distillery. Plantation Diamond houses 8 stills, some of which are the oldest operating stills in the world. These stills are all completely different in composition (wood, double wood, copper, etc...) and size, all yielding entirely different distillates that lead to the complexity that is El Dorado Rum. Similarly to cognac, the age on a bottle of El Dorado rum indicates the youngest spirit found in the bottle, so the elixir inside was aged for a minimum of 12 years.
Banana Nut Funchies
2 oz El Dorado 12 Year Old Rum
1 oz Emilio Lustau Light Fino Sherry (or a premium dry sherry)
3/4 oz Amaretto
Orange Peel
Stir for 30-45 seconds; serve up in a rocks glass; modify by adding .25 ounce Giffard Banane (optional)