Old Rip Van Winkle Distillery Pappy Van Winkle's Family Reserve Bourbon 23 year old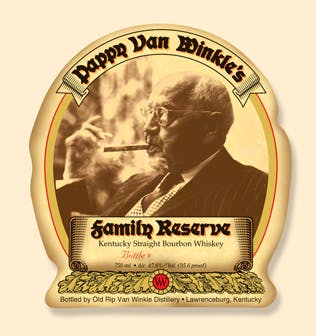 Unavailable
We're sorry, but this product is not currently available.
This very rare, limited edition bourbon takes generations of distilling know-how to produce. Only the most careful and expensive distilling method can be used to create a whiskey as special as this one. This is the same distillation as Old Rip Van Winkle's famous 20 year old Pappy Van Winkle's Family Reserve. These barrels were carefully selected from the heart of the warehouse. This whiskey should be enjoyed neat. Any ice or water will dilute the uniqueness. 95.6 Proof. Rated "Five Stars" by Paul Pacult

Julian Van Winkle III is the third generation Van Winkle to be involved in the Kentucky Bourbon whiskey business. His grandfather, who was known as "Pappy", started the family in the business back in the 1870s when he was a salesman for the W.L. Weller & Sons liquor wholesalers in Louisville. He later built and was president of the Stitzel-Weller Distillery in Louisville, which opened its doors on Derby day, 1935. Their prominent brands were W.L.Weller, Rebel Yell, Cabin Still and Old Fitzgerald bourbons. Julian's father, Julian, Jr., operated the distillery until the family sold it in 1972. At that time Julian, Jr. started the Old Rip Van Winkle brand with some of the whiskey he made while he was at Stitzel-Weller. Julian joined his dad in 1977. Julian continued to operate the business after his father's death in 1981. Julian now has his whiskey produced for him under his grandfather's original wheated bourbon recipe, and ages and bottles the Old Rip Van Winkle brands in Frankfort, Kentucky. In 2001 Julian's son Preston joined the business with his dad. He is the fourth Van Winkle to sell these premium bourbon and rye whiskeys.
Wine EnthusiastThe initial aromatic burst is chockfull of pork sausage and sweet spice scents; with aeration the aroma becomes a stately, mature, fully integrated whiskey bouquet, emitting scents of dark coffee, marzipan, praline, caramel corn and oaky vanillin. Palate entry and midpalate are melded, elegant, sap-like and sweet. Finishes warm, tangy, sweet and resiny. An American distilling masterpiece.