Domaine des Comtes Lafon Meursault Clos De La Baronne 2017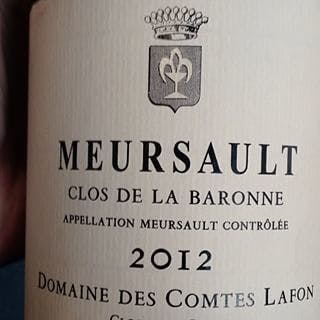 This notable Meursault estate was founded in the late 1800's and is today managed by the charismatic Dominique Lafon. In 1923 while Mayor of Meursault, Jules Lafon revived the tradition of celebrating the end of the grape harvest with a meal. Although originally for the estate proprietor and his workers he also invited 35 of his friends to a banquet and the famous 'Paulée de Meursault' was born. It rapidly evolved to become, after the banquet at Clos Vougeot and the wine auctions at the Hospice of Beaune, the final stage of the 'Trois Glorieuses'. Nowadays, around 600 people take part each year and during the course of the proceedings, the literary prize of the same name is presented.
Wine AdvocateSeven barrels of the 2017 Meursault Clos de la Baronne will be bottled exclusively for the US market, with the result of the production blended into the Meursault Village cuvée. The wine is charming and demonstrative, bursting with aromas of green orchard fruit, honeycomb and white flowers. On the palate, it's medium to full-bodied, ample and succulent, with a mouthwateringly saline finish. This will be hard to resist out of the gates.