Kosovec Frankovka Blaufrãnkisch 2017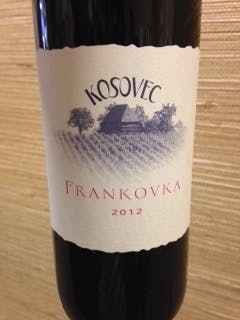 Unavailable
We're sorry, but this product is not currently available.
Croatia is located directly across the Adriatic Sea from the east coast of central Italy and is considered a Central European and Mediterranean country. It is here that the young Ivan Kosovec from the town of Popovača in Continental Croatia is in charge at Kosovec winery. Ivan cleared an untouched forest land of 3.5 hectares by himself to enable pristine organic growing conditions for his vineyard. Ivan has always had a kinship with nature and translated this to the least interventive approach to his winemaking. Respecting the sincere philosophy of healthy and natural wines, his viticulture is based on maximum ecological approach with dedicated work by hand in the vineyards. In the cellar he maintains a non-interventionist approach without the use of winemaking products, additional correction/filtration and as a result he produces honest and natural wines that faithfully transmit a specific vineyard position and characteristic of individual vintages and varietals.

This red wine is made from what Croatians call Frankovka, aka Blaüfrankisch. The Blaüfrankish grape originated in Austria, but spread to Germany (Lemberger), Hungary (Kékfrankos), and also Croatia. Made of 100% Frankovka, aged in stainless steel and fermented with natural yeasts, this red is completely natural and bottled unfiltered. The soils are of classic loam in the Moslavina region, and the altitude of the vineyard is 200 meters. It pairs well with for all kinds of meats, especially red and darker meat, venison, sauces and stews. As with the local Zweigelt, Frankovka is also a typical continental red grape variety but more subtle and elegant. Only 200 cases were produced of the 2012.

A note on viticulture: The vines are grown organically with the pursuit of certification. No pesticides, insecticides or herbicides are sprayed and all grapes are hand harvested. The berries yield moderate alcohol aromatic wines with solid acidity but great balance and harmony.