El Dorado Special Reserve Rum 21 year old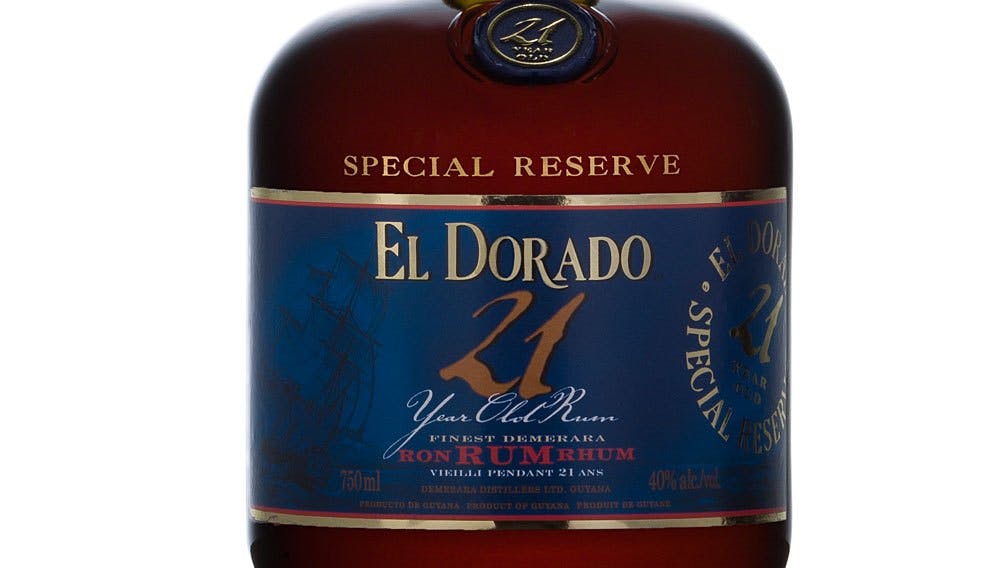 Unavailable
We're sorry, but this product is not currently available.
The evolution of rum distillation dates back nearly 400 years. Upon arriving in Guyana in 1498, Christopher Columbus began planting sugar cane. 150 years later the Dutch came to Guyana and established the first settlements of Essequibo and Berbice, introducing the cultivation of sugar cane along the coastal plain and the banks of the great rivers. At its peak Guyana was home to over 300 sugar estates with distilleries, each producing their own signature rums. Over the years these 300 sugar estates were whittled down to one lone estate and distillery, "Plantation Diamond," located on the east bank of the Demerara River.

Today, Demerara Distillers (the parent company of El Dorado Rum) operates that last remaining distillery. Plantation Diamond houses 8 stills, some of which are the oldest operating stills in the world. These stills are all completely different in composition (wood, double wood, copper, etc...) and size, all yielding entirely different distillates that lead to the complexity that is El Dorado Rum. El Dorado boasts a full line of premium rum, with the El Dorado Special Reserves being internationally recognized as aged Rum benchmarks. Similarly to cognac, the age on a bottle of El Dorado rum indicates the youngest spirit found in the bottle so this bottle's contents were aged for at least 21 years before bottling. The 21 Year has decadent, silky smooth flavors of mocha and toffee. The process gegins with rums from the EHP still, the Versailles single wooden pot still and the Albion Savalle still. Then it is aged in whisky and bourbon casks, for a minimum of 21 years. Look of a golden copper-colored rum with a nose of mocha, toffee, tobacco, and dark spices. The mouth is velvety smooth with a full body of tropical fruits, coffee, leather, and rich toffee.
Wine EnthusiastAeration allows aromas of oak, winter holiday spice and vanilla cake frosting to emerge. Supple palate entry, moderately honeyed; midpalate highlights include the buttery/creamy texture and tastes of cocoa, fiber, ash and beans. Sophisticated and world-class.