Michter's US*1 Single Barrel Straight Rye Whiskey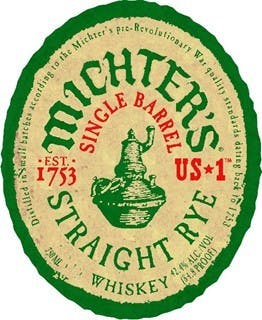 Michter's is renowned for Rye – America's oldest whiskey variety – since the earliest days of their history, and take the production of Michter's US1 Rye extremely seriously. Michter's US1 Rye is made from select American rye grain that is sheared to maximize the extraction of flavor from the grain. Ideal neat or in cocktails, every bottle of Michter's US1 Rye comes from a single barrel – a unique attribute reflecting our extraordinary commitment to offering Kentucky Straight Rye whiskey of the absolute highest quality at every level of the Michter's range.
Wine EnthusiastCrazy-sweet aroma, full of caramel, vanilla and a slight floral touch. The bite comes first (and lingers awhile), followed by vanilla, caramel, coconut flavors. It mellows considerably with ice, and becomes quite likeable, drinkable and mild.