Loveblock Sauvignon Blanc 2019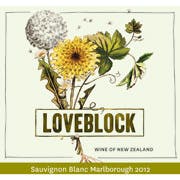 Loveblock is the project of husband and wife team, Kim and Erica Crawford. After selling their enormously popular brand Kim Crawford, they forged ahead with this organic vineyard in Marlborough, believing deeply in embracing a natural life and protecting the environment. Kim is the winemaker and has fashioned a deliciously pure and balanced Sauvignon with white peach, fig and herb notes in the nose and mouth. This will pair particularly well with sushi and sashimi, lemon grass-accented Asian fare, green salads and crispy asparagus dishes.
Wine EnthusiastCurrently this vintage of Loveblock is ultrayoung, with what feels like a fair whack of sulfur overlaying the fruit. Peach, tropical fruit and honeysuckle are there, along with a flicker of something herbal. The palate is creamy with nicely balanced acidity and a bitter note on the finish.