Joel Gott California Chardonnay 2018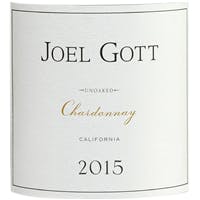 Founded by Joel Gott in 1996, Joel Gott Wines has always been dedicated to selecting the best fruit from growing regions in California, Oregon and Washington which are blended to create balanced, clean, complex, and elegant wines. Striving to give the American consumer expressive, quality-driven and food-friendly wines, Joel Gott is one of the greatest value brands.

This unoaked Chardonnay is made from fruit sourced in the cool, marine-influenced Monterey and Santa Barbara vineyards, providing bright fruit flavors and well-balanced acidity. The Napa appellation adds rich fruit flavors that bring depth to the blend, and fruit from Sonoma offers minerality and complexity. TLook for aromas of melon, pineapple, and stone fruit with hints of lemon. On the palate, the wine opens with bright fruit flavors, leading to a round mouthfeel on the mid-palate and crisp minerality on the finish. Aged in 100% Stainless Steel.