Domaine-Jacques-Frédéric-Mugnier Nuits Saint Georges Clos de la Marechale 2016 375ml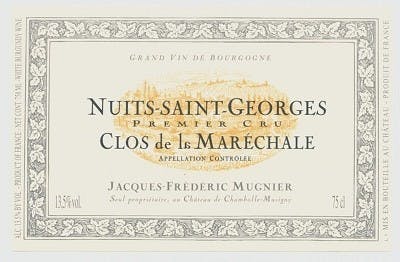 Unavailable
We're sorry, but this product is not currently available.
These are half bottles (375 ML). This gorgeous Nuits-Saint-Georges is from a 20 acre monopole owned by Frédéric Mugnier. For decades the family sold the fruit from this site to Domaine Faiveley to vinify and bottle, but today they domaine bottle Clos de la Marechale exclusively. Frédéric Mugnier de-stems 100% of the fruit and uses about 20% new wood in the vinification. Burghound Allen Meadows considers Frédéric Mugnier to be a 'very careful taster' and writes favorably on the full range.
BurghoundThis is appealingly super-fresh with its cool array of red currant, plum, earth and soft wisps of violet and lavender. The supple, round and utterly delicious medium-bodied flavors possess a really lovely mouthfeel thanks to the relatively fine-grained tannins that also shape the punchy, dusty and serious finale. I like the sense of harmony and this notably complex effort should be easily capable of rewarding 10 to 12 years of cellaring and holding for much longer.