Crop Harvest Earth Organic Cucumber Vodka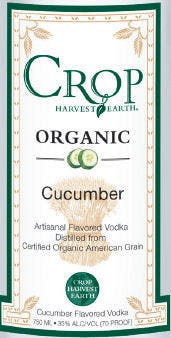 Starting with the purely finest ingredients available, Crop Harvest Earth Vodkas are USDA certified organic, artisanal vodkas produced from grain grown on America's plains. Crop organic grain is harvested from fertile, healthy soil free of artificial fertilizers, pesticides and chemicals, and Crop Vodkas are distilled so efficiently that no carbon treatment or charcoal filtering is required. Crop Cucumber Vodka captures the essence of freshly sliced cucumbers. Innovative mixologists are using Crop Vodka to create exciting, new cocktail recipes.
Wine EnthusiastThis cucumber-flavored vodka may put you in a spa-like mood. With its light but authentic cucumber and white floral aromatics, and a hint of anise on the smooth finish, this USDA-certified spirit evokes cucumber water and light, summery cocktails on the veranda.