Meet the Winemaker :: Simone Santini from Tuscany
Saturday June 27, 2020 3:00 PM - 5:00 PM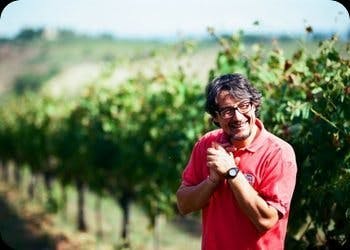 VIP Tuscan Winemaker Tasting
Meet Simone Santini from Le Calcinaie!!!
While visiting Tuscany in May 2018, we met Simone Santini and positively fell in love with his wines, from his 30 acre organic vineyard outside of the medieval town of San Gimignano. Awarded the Best Vernaccia in Decanter magazine in 2018, and featured in the April 30, 2019 issue of Wine Spectator, like the man himself, these wines are joyful, pure and authentic. We will taste 2019 Vernaccia, 2019 Ingrediente Uva, 2018 Chianti Colli Senesi and 2013 Chianti Riserva. Hope to see you there!
'Tenuta le Calcinaie is a breakout winery in this report. Their Vernaccia-based wines all performed beautifully. I look forward to tasting more from this small estate in the future.' –Wine Advocate
Cheers! the Murray family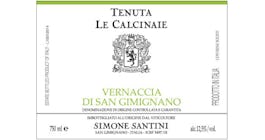 This white is made of 100% Vernaccia grape, aged in stainless steel. It's super fresh and thirst quenching with lemon, mineral, white flower and white melon flavors. Serve with goat and sheep's milk cheeses, shellfish and lemony chicken dishes.
$19.99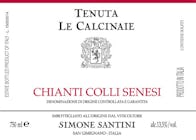 Organic since 1995, grower Simone Santini is such a passionate Tuscan winemaker…we thoroughly enjoyed our visit to his estate in San Gimignano in May 2018. We were so impressed with both his Vernaccia whites and Chianti reds; they were ripe, pure, energetic and utterly charming, just like the winemaker! Le Calcinaie is composed of 30 acres covered with vines with perfect exposure, beautifully tended, and olive trees. This Chianti has fresh, happy aromas and flavors of plums, cherries, violets, rosemary, figs and more. Serve with pesto ravioli, pasta pomodoro, artisan pizza, cured meats, meat pâté and cheeses.
$18.99

With zero exaggeration, we waited an entire year before we were able to get this beautiful Chianti into the U.S.A. and we are so happy it is here now at the Bottle Shop! Before it was bottled, we tasted it out of a large traditional Tuscan barrel called a botte at the organic estate of Simone Santini, and we had to have this wine for our collection of Tuscan reds. Full of deep Sangiovese flavor and character yet fresh, balanced and pure, this 2013 Riserva will make both Chianti Classico and Brunello lovers sublimely happy. Look for dark red fruits, licorice, flowers, spices, sauvage character and wild herbs. Serve with roasted and braised meats, rich pasta dishes, hard cheeses and more.
$42.99
$32.99
---