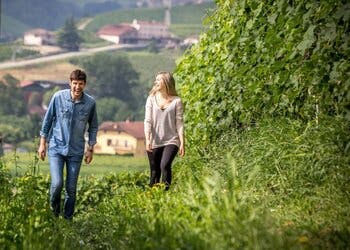 Matteo & Martina Molino pictured above
2nd Generation Barolo Estate
Mauro Molino on Sale from $11.99/bottle
Brother & Sister Producing Authentic Wines
We first met brother & sister team, Matteo and Martina Molino, 10+ years ago at an industry event. In the process of tasting their family's wines, and talking to them about what they do at the estate, we were struck by how incredibly nice, sincere, and humble both of them were. They are the type of people who really listen to you when you speak, and who are grateful that you are interested in hearing about what they do to produce high quality, authentic wines of Piedmont. Since then Martina has visited us here in Spring Lake a few times, we have seen Matteo at big events in NYC, and we have maintained a friendship that we cherish. After graduating from enology school and making wine in Emilia Romagna, their dad Mauro returned home and founded the winery in the early 1980's at the family farm in La Morra. The famed family parcel in Conca dell'Annunziata is the jewel of the estate, and today they manage approximately 12 hectares of vineyards, 50% dedicated to Nebbiolo for Barolo, and the rest mostly Barbera, and Dolcetto. Using organic methods and very low doses of sulfites, they craft fresh, balanced, pure, and simply delicious wines across the board. We have new vintages of both the Dimartina Rosso (named for Martina!) and the Langhe Nebbiolo (at $17.99 is ridiculous for baby Barolo!!); and their Barolo 2016, which is a top vintage, was rated 93+ by Wine Advocate. Bravo!!!
Cheers! the Murray family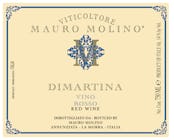 RATED 90+ WINE ADVOCATE : 'The vivid 2018 DiMartina is a blend of equal parts Barbera, Nebbiolo, Merlot and Cabernet Sauvignon. It offers beautiful intensity and a lovely, fruit-forward personality. At its core, the wine reveals cherry fruit with delicate contours of rose hip, dried blueberries and blue flowers. There are subtle touches of spice and sweet almond. There is enough extra richness and fruity fiber to pair with thin cuts of roast beef or other light meat dishes. Only 5,000 bottles were released.'
$13.99
$11.99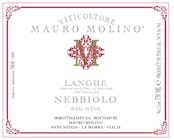 RATED 90 WINE SPECTATOR : 'Light on its feet, this red evokes strawberry, raspberry and rose flavors, with a lithe, yet solid structure to match. It stays fresh and lively as it leisurely crosses the finish line. Only 1,000 cases made, 300 cases imported.' Made of 100% Nebbiolo from 10-30-year-old vines in Guarene (80%) and the lower part of La Morra (20%.) Sandy soils of Guarene in Roero imbue the Nebbiolo with softness and approachability. Aged 6 months in large mostly neutral French oak casks.
$21.99
$17.99

RATED 93+ WINE ADVOCATE : 'Here's a classic interpretation of this vintage and a wine that will bring a big return on such a relatively small investment. The 2016 Barolo is gorgeous. Crushed flowers, cedar, sweet pipe tobacco, dried herbs and mint all lift from the glass effortlessly. Hints of dried cherry, pomegranate and earthiness appear later. This is such a pretty wine, especially in its peer group. A compact expression of Nebbiolo that will flesh out and take on more volume with time. This vintage offers the power and grit that will carry it forward.'
$39.99
$32.99