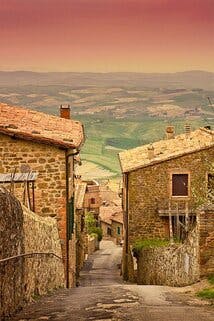 The ancient hill town of Montalcino
Brunello Big Names on Sale!!!
Argiano & Ciacci Piccolomini 2016s are Here
Plus 2015 Riserva & 2018 'Everyday' Reds
First, we would like to say 'welcome back' to the great, historic ARGIANO estate to our portfolio. Producing wines from prized limestone-rich soils for 400+ years, Argiano is known all over the world for its quality and commitment to its noble wine, Brunello di Montalcino. This region has deep roots in wine since at least the 12th century, and today, Brunello di Montalcino and Rosso di Montalcino wines compete on the world stage at the highest quality. Plus, they offer substantial value when you see below Argiano's Tuscan blend for $16.99/bottle and Ciacci P.'s Rosso for $19.99, and their perspective Brunello's for $49.99 and $59.99.
Founded in the 17th century, Ciacci Piccolomini became so named in the late 1800's when Count Piccolomini married Countess Ciacci (pronounced 'Chah-chee', like Chachi from Happy Days:). The estate's modern era became even more modern in 1985 when Countess Elda Ciacci bequeathed the entire estate to Giuseppe Bianchini, a loyal, hard-working farmer in the vineyard for many years. It is his children, a brother and sister team, who now produce exceptional wines from organic vines, using very low sulfites in the winemaking. These wines receive glowing reviews every year, and the 2015 Riserva has a perfect 100 points.
ATTENTION CHEESE LOVERS : A FRESH BATCH OF ITALIAN AND FRENCH CHEESES ARRIVED ON THURSDAY -- STOP BY FOR TASTY TREATS!
Cheers! the Murray family

RATED 93 JAMES SUCKLING : 'The ripe berries with delicate chocolate and hazelnut undertones are very attractive, as are the dusty tannins and herbal, berry and light tobacco undertones at the finish. Just a little more time will make it all the better.' Cabernet Sauvignon, Merlot, and Sangiovese blend from organic vines
$21.99
$16.99

RATED 97 JAMES SUCKLING : 'A very polished red with cloves and caramel, on top of black cherries, mushrooms and forest floor. Black olives, too. It's full-bodied with polished tannins and lovely depth all the way through. Lightly chewy. Juicy black-cherries and savory black-olive character. Complex.'

$69.99
$49.99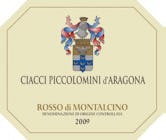 RATED 92 WINE ENTHUSIAST & PERENNIAL BOTTLE SHOP BEST SELLER : 'Vibrant and delicious, this textbook Rosso has enticing aromas of woodland berry, rose, tobacco and a whiff of eucalyptus. On the smooth, savory palate, polished tannins and bright acidity accompany succulent wild cherry, raspberry compote and licorice. Drink through 2023.'
$22.99
$19.99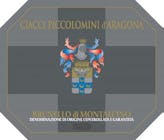 RATED 95+ WINE ADVOCATE : 'The 2016 Brunello di Montalcino shows bold cherry, spice, crushed stone and balsam herb that come together in seamless fashion. This estate has honed a unique style that becomes a common theme traced to each new vintage. I'd describe it as delicate but also succulent with a rich and almost pulpy quality of fruit. The wine is fueled by the golden light that hits this part of Tuscany in those last hours of the day. Here is a wine that shows spirit of place.'
$69.99
$59.99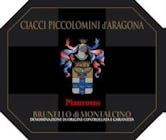 RATED 98 WINE ADVOCATE : 'The Ciacci Piccolomini d'Aragona 2016 Brunello di Montalcino Pianrosso is a single-vineyard expression that draws its fruit from an 11.7-hectare parcel with galestro soils with ancient marine material. This special site, awash under the brilliant light of a big, open sky, does indeed deliver a more pronounced mineral signature, with wild berry, rose and rosemary essence. This is a beautiful wine, taut and silky, with elegant tannins that will endure ambitious bottle aging.'
$99.99
$84.99

RATED 100 JAMES SUCKLING : 'The opulence of fruit and complexity of earth, meat, mushroom and cedar is breathtaking. It's full-bodied, deep and powerful with so much intensity and depth. Chewy and layered, it goes on for minutes. Give it even more time.'

$225.00
$169.99