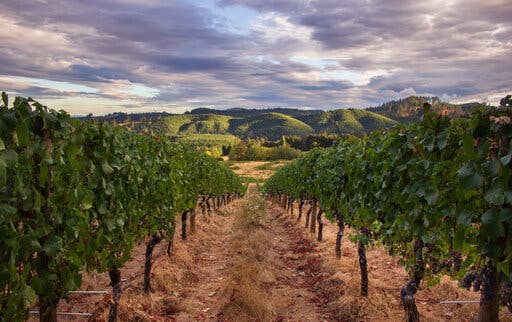 Truly Magical Pinot Noir & Pinot Gris
Antiquum Farm Oregon from $24.99
from Grazing Based Viticulture

When we first tasted Stephen Hagen's wines, we did not yet know him personally, but we knew from our first sips that something magical was happening at a small vineyard in Oregon and we needed to know more. We talked to our distributor, we read more about Antiquum Farm, and we picked up a couple wines to carry at the Bottle Shop. About a year later we heard the owner was coming to the East Coast and we insisted upon a face-to-face meeting. Within minutes of talking to Stephen, all of his passion, labor, ingenuity and commitment to not just quality, but individualistic greatness, was crystal clear. It is not so easy to sum up quickly but we will do our best here. We suggest you dive deeper into the wines below and read more.
Antiquum Farm is a high elevation, non-irrigated, 14.5 acre estate with volcanic, sandstone and bellpine soils focusing on Pinot Noir, and small bits of Pinot Gris. Contrary to the popular terminology of Organic or Biodynamic or Natural, Stephen calls his way of farming 'Grazing-Based Viticulture' which is reminiscent of pre-1940's agriculture, and is decidedly 'beyond' organic. He has sheep, chickens, geese and pigs grazing the vineyard. He has his beloved dogs and horses helping in the tasks of farming. Speaking of his beloved, his wife and two children, all play their crucial parts in this thriving ecosystem. Stephen and his family have created an emphatically alive, exuberant, healthy vineyard yielding soulful, complex and individualistic wines. What more can we say? Enjoy the journey with the selections below of one of America's most enthralling vinifera projects we have ever encountered.
FRESH CHEESES AND CHARCUTERIE ARRIVED YESTERDAY
Cheers! the Murray family






A LITTLE EXTRA INFO : No outside fertilizers, synthetic or otherwise, are used at AF. The methods here are even more organic than what the certified organic rules require. The vineyard floor is intensively managed for abundant life. This means letting the wild in, while contributing species enhance vine health, insect habitat and diversity. Returning livestock to this mix is essential: a flock of Katahdin/Dorper crosses are the cornerstone of fertility management. The Hagens' use intensive rotational grazing to cycle nutrients from diverse cover crops to the vines. Several years of this practice have led to a vineyard that needs no other fertilizer, creating wines that are truly site specific. Fermentation is done with indigenous yeasts and the wines are vegan.
AND BY THE WAY, FOLLOW STEPHEN ON INSTAGRAM : antiquumfarmer
we love his posts!!!