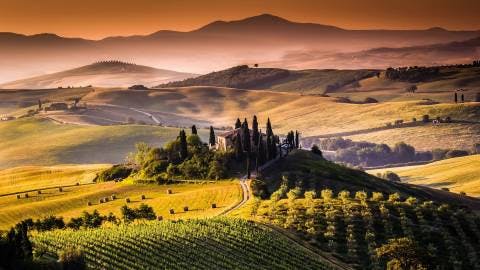 Six Italian 'End of Vintage' Opportunities
with Focus on Brunello di Montalcino
+ Last Chance for 2016 Marchese Antinori
Today's email is really making us long for a visit to beautiful Italia ... the rolling hills of vines, the swaying cypress trees, the aromas of herbs and flowers in the air, and of course, the magical, soul-filling food and wine ... well, let us go there in spirit today with this offer of 'last chance' Italian reds, as we await new vintages in the Spring. First up, one of Chianti Classico's most famous wines with a legion of loyal fans: Marchese Antinori Riserva is essentially 'Baby Tignanello'. We do not expect it to ever be $35.99 again, so get this 2016 now. Next a really cool blend of Aglianico, Cab & Merlot from Campania from the 2012 vintage is the elder statesman of the group, and, 50% off! And then bam!!! Four upper echelon Brunello di Montalcino that can be enjoyed now, but savvy savers will stash away several bottles or even a mixed case of the 4 options to start opening a few years down the line... Il Poggione is the biggest name, but Fossacolle, Uccelliera and Salicutti are all highly rated and sought after across the globe.
DON'T FORGET ABOUT OUR FOOD MARKET FOR SNACKS, APPETIZERS & EASY DELICIOUS MEALS


Cheers! the Murray family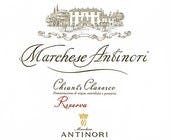 RATED 93 WINE ADVOCATE : 'The 2016 Chianti Classico Riserva Marchese Antinori is Sangiovese enhanced with touches of Cabernet Sauvignon and Merlot. Renzo Cotarella and the extended technical team at Marchesi Antinori are working hard on perfecting their tannin management, and the beautiful results are evident across this line of new releases from the classic 2016 vintage. The finish is silky and long, and the tannins are never dry. The fruit is evident and bright with wild cherry, rose and Italian garden herb.'
'Antinori seems to do everything well these days. This is another impressive set of new releases with a number of highlights. Over the years oenologist Renzo Cotarella has moved away from the super-late harvests of the late 1990s/early 2000s in favor of picking slightly earlier, a decision that has paid off handsomely, especially over the last few years.'
Wine Advocate
$49.99
$35.99

RATED 93 WINE ADVOCATE : 'The 2012 Montevetrano is a dark and exuberant wine, with bold fruit flavors of black cherry, spice, leather and chocolate that pop with intensity from the glass. The effect is seamless, soft and fully integrated. The wine shows a riper taste profile, for sure, that offers pleasure and opulence. Drink Date 2017 - 2028.' Pair with roasted red meats, black truffle ravioli, aged cheeses, salumi and more...
$79.99
$39.99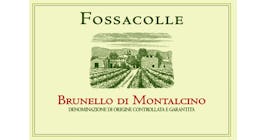 RATED 97 JAMES SUCKING : 'Excellent ripeness of fruit here with strawberries, blood oranges, red licorice and dried spices. Superb density and focus to the center palate, which is layered, ornate, plush but balanced. The finish goes on and on with nutmeg, tar and saffron. Wonderful length and intensity. '
$65.00
$49.99

'Proprietor Andrea Cortonesi fashions big, full-bodied wines from his vineyards in the southern part of the Montalcino zone. He represents the finest of the artisan approach to making wines in Montalcino.' -- The Wine Advocate
RATED 97 WINE ADVOCATE : 'Andrea Cortonesi of Uccelliera shows real talent when it comes to highlighting vintage variation in his wines. His 2015 Brunello di Montalcino captures the exuberance and the ebullience of this sunny and warm growing season. However, the wine remains orderly, precise and very elegant nonetheless, with a pretty succession of aromas that play cautiously forward, building in intensity along the way. Dried currant and cherry cede to moist earth, rose petal and balsam herb. The wine's medium-weight body is supported by fresh acidity and well-managed tannins (with 36 months of oak aging). All of these moving pieces work in harmony. '
$69.99
$59.99

| | | | | | | | | | | | | | | | | | | | |
| --- | --- | --- | --- | --- | --- | --- | --- | --- | --- | --- | --- | --- | --- | --- | --- | --- | --- | --- | --- |
| | v | 97 | | | wa | 97 | | | js | 96 | | | ws | 95 | | | we | 91 | |
RATED 97 VINOUS : 'Il Poggione 2015 Brunello di Montalcino offers up a dark, earthy, almost animal-like expression, showing black soil and undergrowth, giving way to crushed black cherry, dusty spice, and dried florals which lift the experience. On the palate, soft, fleshy textures usher in fresh cherry and strawberry, as brisk acids add energy, with savory herbs and minerals saturating, as the 2015 Il Poggione's fruit nearly masks its structural core. The finish is long yet fresh, with classic, fine tannins, dried red fruits and pretty inner floral tones lingering throughout this perfectly balanced expression. The 2015 s pure class and built for the cellar.'


'Fabrizio Bindocci and his son Alessandro are the most accomplished father-son winemaking team I can think of today in Italy. They excel in every aspect of winemaking, from vineyard management to wine marketing. This is one of the highest expression of Sangiovese you will ever taste.' Monica Larner of Wine Advocate
$89.99
$69.99

RATED 96 WINE SPECTATOR : 'The character here is ethereal and fragrant, with bright cherry and juniper flavors as the main flavor themes, augmented by strawberry, wild thyme, stone and loam notes. Taut, elegant and well-structured, balanced and long. The finish reveals this wine's potential. Best from 2023 through 2045. Only 525 cases made.'


$124.99
$94.99