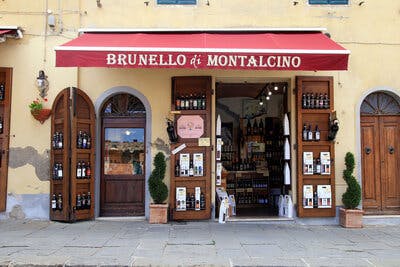 2015 Brunello Riservas On Sale!
Altesino, Pertimali, Il Poggione & more
Plus Bonus : Lecci Brunello Normale $29.99
What a fabulous opportunity to acquire the highest quality Brunello wines from a vintage that produced stunning wines from the highest quality estates. Montalcino is the crown jewel of Tuscany's wine regions, growing world class Sangiovese grapes. Most estates in Montalcino make 3 wines : Rosso di Montalcino from their younger vines aged a minimum of one year; Brunello di Montalcino 'Normale' from older vines aged a minimum of four years, with a minimum of two years in oak; and then today's focus, Brunello di Montalcino Riserva, using the very best grapes from the best harvests, aged for a minimum of 36 months in oak and at least 6 months in bottle (but usually winds up in bottle for almost 3 years). Between oak and bottle, these Riserva's must age for a total of 6 years before being released to the world.
Talk about smooth and sultry, the 5 wines below, including the 97 point Il Poggione in both 750 ml's and magnums, 98 point Uccelliera, 97 point Altesino, Livio Sassetti's Pertimali with 95 points, and a boutique estate we tasted and loved with 94 points named Máté, will thrill Italian wine lovers, as well as California Cab drinkers who want to pair a beautiful Italian or Mediterranean meal with the perfect wine. And don't miss our extra bonus at the end, a great one to pick up a case of for the upcoming Winter... 
Cheers! the Murray family

RATED 94 WINE SPECTATOR : 'Enticing flavors of black cherry, plum, earth, tobacco and mineral are allied to a structure of dense tannins. Nicely balanced, with lively acidity driving the lingering finish. Best from 2024 - 2047. 250 cases made.' Máté is a family-owned, organically farmed estate in the prestigious, temperate Santa Restituta zone of Montalcino, also home to the vineyards of Angelo Gaja and Gianfranco Soldera. Within the Máté's 75 acres of natural forest and wild fruit, the family planted 15 acres of vineyards in extremely varied terroir between 1,000 and 1,300 feet above sea level.
$99.99   
$89.99

RATED 97 WINE ADVOCATE : 'This single-vineyard Riserva with handsome DNA delivers a generous, abundant and determined personality. This is Brunello with a capital B. Benefitting from a warm and sun-soaked microclimate that is shielded from cold winter winds, you can taste the good health of the grapes thanks to those very direct aromas of black cherry, plum, tar, campfire ash and chalky mineral. The Paganelli vineyard is 12 hectares in size, with vines planted in 1964. The last time this wine was made was in 2012. Fruit from those old vines shape complex aromas, elegant tannins & freshness.'
$149.99   
$109.00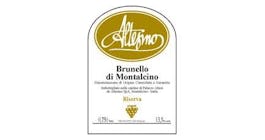 RATED 97 WINE SPECTATOR : 'Laced with ripe cherry, strawberry, floral, spice, iron and leather flavors, this red is complex and charming, yet with serious tannins that ply the structure and lift the long finish. The fine balance should facilitate longevity. Best from 2024 through 2048. 1,600 cases made.' Altesino is a reference point producer in Brunello di Montalcino, sought after in every vintage, especially in the top vintages. As region innovators, they introduced the 'Cru' concept with their 'Montosoli' wine in 1975; they also were the first to experiment with barriques in '79. 'With its mesmerizing and utterly classic bouquet, the 2015 Brunello di Montalcino Riserva lifts from the glass, mixing crushed black cherry, plum and leathery aromas with notes of sage, lavender and violets. The textures are silky-smooth, enveloping the palate in vibrant red and hints of blue fruit, as salty minerals, spice and rosy florals build toward the close. Its tannins are firm, yet there's plenty of primary intensity to balance, along with cooling herbal tones that add refreshing lift.' Vinous 95
$149.99   
$109.00

RATED 95 SPECTATOR AND VINOUS : 'The 2015 Brunello di Montalcino Riserva struts its old-school stylings with a beguiling display of musky cherry and strawberry offset by damp earth tones, hints of cedar and mint. It's unbelievably soft and silky in texture, ushering in ripe red berry fruits laced in saline-minerals and savory spice, with building inner florals toward the close. Formidable structure awaits on the finish, yet the 2015 Riserva manages to maintain freshness, coming across as both structured for the long haul but also with enough primary appeal to warrant checking in on today. It's gorgeous. Drinking Window: 2024-2034.'
$149.99   
$129.99

RATED 98 SPECTATOR AND 97+ WINE ADVOCATE : 'The Uccelliera 2015 Brunello di Montalcino Riserva is a great achievement and among my top favorite wines from Andrea Cortonesi tasted in the 20 or so years I have followed this estate. There is a lot of power here, thanks to that golden Castelnuovo dell'Abate sunshine, so I cannot liken this wine to some of the more ethereal and delicate expressions that I also love. Instead, this Riserva delivers brawn, dark fruit and muscle, but it does so with sincerity and honesty. You can't help but appreciate the complexity on offer. The wine offers plenty of dark fruit, but you also get licorice, balsam herb and crushed limestone. There is a lot of beauty to admire.' Best from 2024 through 2048. 
$199.99   
$149.99

RATED 97 WINE ADVOCATE AND 96 VINOUS : MAGNUMS ::  'The 2015 Brunello di Montalcino Vigna Paganelli Riserva from Il Poggione keeps you at the edge of your seat, with a gorgeous display of herbal-tinged black cherry, sweet white smoke, cedar and cloves. The textures are silky and polished, as this coasts effortlessly across a core of salty minerals and bright acids, taking on a decidedly savory, umami note. There's simply so much going on and so much to like about the 2015 Riserva, as balsamic spice, hints of wild herbs and tobacco form up toward the close over a coating of classically fine tannin. Tasting the 2015 Riserva, you could easily forget that it hails from a ripe vintage. This should excel for well over a decade in cellars. Tasted twice over the course of two days.'
$299.00   
$249.00
BONUS WINE :

RATED 91 WINE ADVOCATE : 'Collina dei Lecci's 2015 Brunello di Montalcino doesn't show that much fruit, focusing instead on evolved aromas of spice, potting soil and dried cherry or prune. The fruit feels tightened and dehydrated by the heat and sunshine of the 2015 summer season. This wine offers a medium finish with some fine texture on the dry tannins, which might work with a simple carbonara or even a veal saltimbocca. I would suggest a near or medium-term drinking window so as not to further jeopardize the intensity of those primary aromas.' La Collina dei Lecci is a traditional Tuscan stone house built on a hill surrounded by vineyards, olive groves and centuries old trees, only five kilometres away from San Gimignano.
$39.99   
$29.99