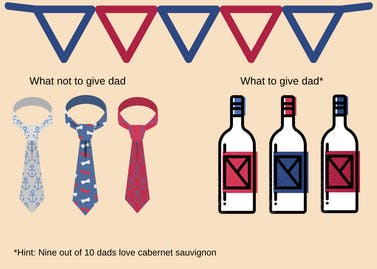 Gifts For Father's Day
Fabulous Cabs and Fine Whiskies
'Dad's Favorite Store' has the Perfect Gifts!
We often hear that the Bottle Shop is 'Dad's favorite store' so this is the perfect opportunity to give him a gift he will truly love. We are recommending two excellent Cabernets : 2018 CAKEBREAD Napa on Sale $89.99, and 2019 My Favorite Neighbor from BOOKER in Paso Robles at $44.99. The Cakebread name is synonymous with luxury & style, and the Booker is a new discovery sure to please the Austin Hope-loving crowd. After this fine pair, we chose a WHISKEY DUO : our 15 Year GEORGE DICKEL single barrel is so unbelievably smooth and the history behind this Tennessee pioneer is legendary. Our second whiskey is one of the best names in Bourbon : KNOB CREEK. This may be your last chance for our Knob Creek 9 year Single Barrel. And if you cannot decide on which bottle or bottles to give the top man in your life, then how about a Bottle Shop Gift Card? Choose the amount and then he can do the picking. We also received a fresh batch of cheeses, charcuterie, etc. this week, so stop by and stock up!
Cheers to 50 Years! the Murray family
#secondgeneration #familybiz #wineandwhiskey #shopsmallbusinesses

RATED 91 JAMES SUCKLING : 'Ripe plums and blackberries with some coca-nib, vanilla, bread-crust and smoke notes. Full-bodied with velvety tannins, deep fruit and bright acidity. Tight and reserved, yet juicy, with a long finish. Approachable now, but better in 2022.' 'The 2018 Cabernet Sauvignon is a blend of 88.2% Cabernet Sauvignon, 6.2% Merlot, 3% Petit Verdot, 1.1% Syrah, .5% Malbec, .5% Cabernet Franc and .5% Petite Sirah. Deep garnet-purple in color, it offers up vivacious scents of warm cassis, juicy blueberries and Black Forest cake with hints of dried herbs and tilled earth. The medium to full-bodied palate delivers mouth-coating black fruit preserves flavors with a soft, approachable texture and plenty of freshness.'
$124.99   
$89.99

RATED 96 WINE ADVOCATE : 'Blended with a bit of Syrah and Petit Verdot, the 2019 Cabernet Sauvignon has a deep ruby-purple color and an alluring fragrance of cassis, violet, aniseed, bitter chocolate and coffee beans. It's notable this vintage for Goldilocks ripeness and seamless lift, offering a chocolate-like texture and very long finish.' A homage to Stephan Asseo of L'Aventure Winery became an obsession for Eric Jensen. Stephan is a close friend and mentor to Eric. For the entire first year they were friends, each time Stephan called he would refer to himself as Eric's "favorite neighbor", as if there was any doubt about who would be calling with such a thick French accent! The title was a self-fulfilling prophecy and in 2006 Eric crafted a Cabernet-based wine to honor his friend Stephan and his Bordeaux roots.
$49.99   
$44.99

This is our limited edition Private Single Barrel whisky from the legendary American distiller, George A. Dickel. Dickel was the second 'founding father' of Tennessee whiskey along with Jack Daniels himself. We tasted a range of Dickel 15 year barrels before enthusiastically agreeing upon #992 with 93.4 proof and a well-rounded, smooth style. This flavorful yet soft 15 year has aromas and flavors of gentle spice, tangerine oil, caramel apple, mocha and sweet herbs. It tastes 'bourbon-esque' in the best sense, lightly sweet and woody, with no burn on the finish. Made of 84% Corn, 8% Rye and 8% Malted Barley.
$89.99   
$69.99
Our own private Bottle Shop Barrel :: 120 proof :: from Knob Creek. When Booker Noe created Knob Creek, he revived full-flavored, pre-prohibition style bourbon and rye whiskies. Each bottle stands as a hard-earned piece of American whiskey history, and each barrel tells a story of its own, uniquely influenced by nature, time and its individual journey. This bottle was tasted, loved and chosen by our wine and whiskey buyers to sell exclusively at the Bottle Shop. 
$64.99   
$55.00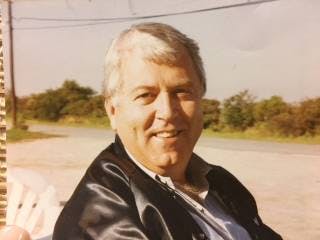 We miss you, Dad! xoxo