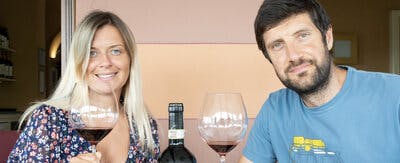 Brother & Sister Team Martina & Matteo Molino
Trio of Terrific Barolo
from Three Family Estates
Rated 92-93 pts $25-35/bottle
In our constant pursuit for great wines that are also great values, we have found 3 terrific Barolo from 3 different family estates in Piedmont. We met Mauro Molino's children, Matteo and Martina, who are doing an incredible job continuing the quality of these classic Italian wines. Their old Nebbiolo vines are producing concentrated yet elegant Barolo. Next up, Marziano Abbona is another family estate through & through. 4th generation Chiara Abbona says 'We never made wine in order to receive good reviews, but to express the best that our land can give. It was a choice that has rewarded us over time.' Along with her sister Mara, these strong, hard working women have brought new excitement to their family's story. And last but not least, the Neirano estate is also managed by the 4th generation, producing and aging wines in an ancient 17th century villa. These are three beautiful examples of refined Barolo.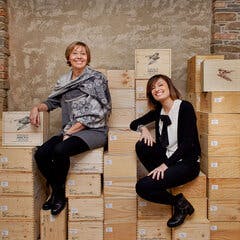 Sisters Mara & Chiara Abbona are the 4th generation at Marziano Abbona

Cheers! t
he Murray family
#cheersto50years #secondgeneration #familymatters #50thanniversary1972-2022 #wineandwhiskey

RATED 93 WINE ADVOCATE : 'Perfectly in line with your expectations for the vintage, the Mauro Molino 2017 Barolo represents a blend of fruit from Annunziata and Berri in La Morra and Perno in Monforte d'Alba. The wine is softly textured and silky to the palate, and its shows steady aromatic intensity with light cherry fruit, followed by dried herb and crushed flowers. There is a spot of tart cherry that is underlined by the natural freshness of the grape.'
$39.99   
$34.99

RATED 92 JAMES SUCKLING : 'Fresh, lightly spiced and nicely structured Barolo here, offering clean red-berry and orange-peel character. Medium-to full-bodied with a cool, fresh feel to the palate. Like it. ' We have twice had the pleasure of tasting wine and speaking with Chiara Abbona, one of Marziano Abbona's two daughters, and the serious ambassador for her family's winery in Piedmont.  Educated in winemaking from an early age both at home and at university, Chiara is an integral part of this thriving family business. In addition to our love and respect for what we taste inside each Abbona bottle, we are also drawn to the labels. Each Abbona label is designed by family friend and features various species of birds found on the estate's vineyards.
$34.99   
$29.99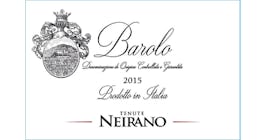 RATED 92 JAMES SUCKLING : 'Attractive, fine, floral perfume here with a neat array of spice-dusted red fruit. The palate has a very approachable and fleshy feel with a wide arc of fine, chalky tannins. Try from 2022.' Tenute Neirano is a small DOCG estate, and part of the company founded in 1911 by Antonio Sperone in a small cellar just outside of Turin. Sperone wanted to focus on high end wines in Piemonte in the 1980's so the family purchased a 25 hectare property in the heart of Monforte d'Alba, a region famous for its compressed sandstone soils, crafting intense, structured wines with great power and longevity.
$24.99