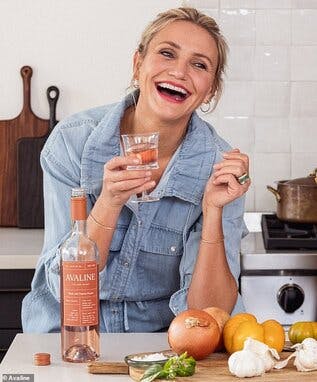 Cameron Diaz' Organic Wine Passion Project
AVALINE ON SALE $17.99 White Red Rosé
A Top 'Asked For' Brand Summer 2021
Cameron Diaz dominated Hollywood for many years with her beauty, humor and contagious smile and now the blonde A-lister, 48, has morphed quietly into a wine mogul with her Avaline brand of red, white and rosé wines. She created Avaline with her friend, entrepreneur Katherine Power, as a 'clean' wine brand which is vegan-friendly and organic, with no harsh chemical pesticides used to grow the grapes. Diaz explains: 'I enjoyed wine for many-a-year and never questioned it... but I had no idea of the process... we soon learned it wasn't what you added, it's what you didn't add'. The star met Katherine through her sister-in-law Nicole Richie (also married to a Madden brother). In April 2018 they began studying the wine world and questioned what went into their favorite beverage. 'I actually figured it was the most responsible alcohol choice because it was made with fermented grapes. But I had no idea of the process. Both Katherine and I wanted to make a cleaner wine.' With ingredient transparency on each label, Avaline aims to set a new standard for the wine industry, and the plan is working. All week long, we have consumers walking in the door and asking if we have Avaline... and we have all 3 today on sale for just $17.99 per bottle. The wines are fresh, pure and delicious, come in and taste what all the talk is about!!!   
Cheers! the Murray family

Avaline White is a dry wine with a crisp, fresh finish and comes from Spain. It is also the creation of Hollywood star, Cameron Diaz! The Charlie's Angels actress created this 'clean' white that is both vegan-friendly and organic, with no harsh chemical pesticides used to grow the grapes. Made of local indigenous Spanish grapes : Macabeo, Xarel-lo and Malvasia, which produce a wonderfully aromatic, clean, crisp whites with juicy yellow fruit and floral notes. Dry but not too dry, this is fantastic with seafood or even on its own.
$21.99   
$17.99

If you love Provence Rosé, this is the Rosé for you. Light, fresh and dry, this has charming notes of melon, lemon zest, tangerine, geranium aromas and ultra subtle spices. Made of Provence varieties such as Grenache, Syrah, Cinsault and Caladoc, along with a splash of Cabernet Sauvignon to give the wine a little extra body.  Serve with all types of Asian fare, salmon, shrimp, grilled meats and vegetables, fine cheeses, olives and more...
$21.99   
$17.99

Made of Syrah and Grenache in the south of France, Avaline red is medium-bodied with hints of cherry and spices. Free from : added sugar, artificial colors and concentrates, this is a fantastic summer red to have with everything on the grill, or with pizza and pasta. 
$21.99   
$17.99